НЕФІНАНСОВА МОТИВАЦІЯ ПРАЦІВНИКІВ ПІДПРИЄМСТВ В УМОВАХ КРИЗИ
Keywords:
crisis, motivation, tools, company, personell, results.
Abstract
The crisis amplifies the imperfections of management systems, including the area of
human resources management in organizations. Despite the bad market situation, a company in trouble
can not afford to lose key employees or decrease their motivation. Whether the company finds a way out
of the crisis or disappears from the market largely depends on the motivation of its employees.
The author presents the results of her own research conducted from September 2015 to March 2016
on crisis situations in enterprises. The study covered a group of 70 managers of Lubuskie companies of
different sizes. The categorical and questionnaire interview method was used. The research tool was selfprepared
questionnaire interview.
References
1. Armstrong M.: Zarządzanie zasobami ludzkimi, Oficyna Wolters Kluwer Business, Kraków 2014.
2. Bartman K.: Benefity po polsku, Personel, 21/2013.
3. Bieniok H. i zespół: Metody sprawnego zarządzania, Agencja Wydawnicza "Placet", Warszawa
2014.
4. Borkowska S.: Systemy motywowania w przedsiębiorstwie, Polskie Wydawnictwo Naukowe,
Warszawa 2014.
5. Gableta M.: Potencjał pracy przedsiębiorstwa,, Wydawnictwo UE we Wrocławiu, Wrocław
2016.
6. Haber L.H.: Management Zarys zarządzania małą firmą, WPSB, Kraków 2013.
7. Jasiński Z.: Motywowanie w przedsiębiorstwie, Agencja Wydawnicza Placet, Warszawa 2012.
8. Kozioł L.: Formy płacowe a system motywowania w przedsiębiorstwie, Zeszyty Naukowe
Akademii Ekonomicznej w Krakowie, nr 248, Kraków 2013.
9. Koźmiński A.K., Piotrowski W.: Zarządzanie. Teoria i praktyka, Państwowe Wydawnictwo
Naukowe, Warszawa 2014.
10. Malewska K.: Strategie zarządzania kryzysem w przedsiębiorstwie, [w:] Skalik J. (red.),
Zachowania organizacji wobec zjawisk kryzysowych, Wydawnictwo Cornetis, Wrocław 2013.
11. Manikowski R.: Motywowanie w okresie recesji, Personel, 10/2012.
12. Patora R.: Motywowanie w przedsiębiorstwie jako przykład działalności pedagogicznej,
"Przegląd Organizacji", nr 1/2012.
13. Penc J.: Leksykon Biznesu, Agencja Wydawnicza "Placet", Warszawa 2014.
14. Petersen J., Hillkirk J.: Praca zespołowa. Nowe pomysły na lata 90. Doświadczenia i koncepcje
zarządzania koncernem Forda, WNT, Warszawa 2013.
15. Pioch J.: Systemy motywacyjne a wdrażanie zmian w przedsiębiorstwie, "Przegląd
Organizacji", nr 2/2013.
16. Webber R. A.: Zasady zarządzania organizacjami, Polskie Wydawnictwo Ekonomiczne,
Warszawa 2006.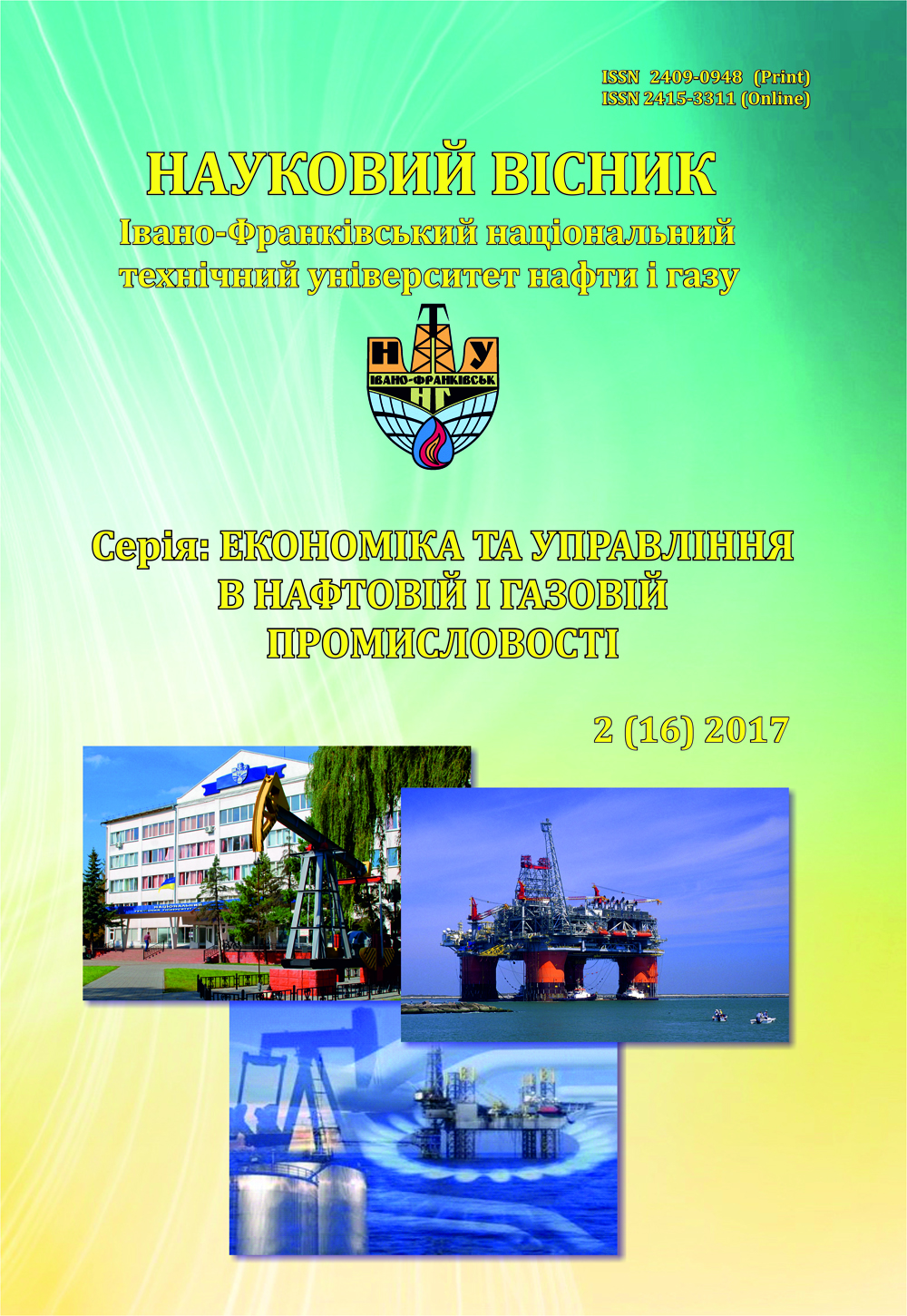 How to Cite
Ясінська, Й. (2018). НЕФІНАНСОВА МОТИВАЦІЯ ПРАЦІВНИКІВ ПІДПРИЄМСТВ В УМОВАХ КРИЗИ. Scientific Bulletin of Ivano-Frankivsk National Technical University of Oil and Gas (Series: Economics and Management in the Oil and Gas Industry), 2(16), 45-52. Retrieved from http://eung.nung.edu.ua/index.php/ecom/article/view/17
Section
THEORETICAL PROBLEMS OF ECONOMICS AND MANAGEMENT
Copyright and Licensing Terms
Copyright Statement
The authors who publish in the journal accept the following conditions:
The authors retain the copyright and grant the journal the right of first publication, licensed with Creative CommonsCC BY-NC-SA , which permits other people to remix, transform, and build upon the material and use the material for non-commercial purposes, give appropriate credit and distribute the contributions under the same license as the original.
The authors can conclude additional agreements on the non-exclusive distribution of the journal's published version of the work (for example, publication of the work in electronic repositories) with an acknowledgment of its initial publication in this journal.
The authors can upload the published articles on the Internet (for example, in electronic repositories or on web-sites), as it will stimulate fruitful scholarly discussions and increase the citation rates of the published articles.