Features of the formation of regional policy of Ukraine during transformational changes
Keywords:
regional policy, socio-economic development, regional level of governance, mechanism of regional policy, inter-regional disproportion.
Abstract
The theoretical principles of regional policy associated with structural realignment
regions and regional socio-economic development area is analysed. Priority approaches to the formulation
and implementation of state regional policy of Ukraine proceeding from the basic long-term objectives:
socio-economic growth of the regions overcoming major interregional disparities, achieving acceptable
norms and standards and living conditions of the people, were determinated. Justifiably, that the
management of socio-economic development of the region in modern conditions must come with the
necessary close cooperation between national, regional and local authorities in the development and
implementation of regional policy, defining strategic goals; make up a proper legal-adeptly, which should
determine the ratio of the specific weight of State-Government and regional social impacts; contribute to
the implementation of economic reforms, creation of conditions for the real impact of territorial
communities and the population of the regions on the processes of implementation of regional policy;
promote the observance of the principle of equality of all subjects of the State in relations between
themselves and with the bodies of public administration concerning solving life and comprehensive
development of the territories; maintain and strengthen the integrity and unity of the society and the State.
References
1. Ларина Н. И. Региональная политика в странах рыночной экономики /Н. И. Ларина, А. А.
Кисельников. – М., 1998. – с. 4.
2. Гладкий Ю.Н. Основы региональной политики. Учебник /Ю. Н. Гладкий, А. И. Чистобаев.
– М., 1998. – с.19.
3. Чумаченко М. Г. Регіональна політика в Україні [Текст] / М. Г. Чумаченко. – Донецьк:
Інститут економіки промисловості, 2003. – 68 с.
4. Проект Закону України "Про засади державної регіональної політики" від 31 червня 2010
року. [Електронний ресурс] /Офіційний сайт Верховної Ради України. – Режим доступу:
http://www.zakon.rada.gov.ua/ .
5. Лексин В. Общероссийские реформы и территориальное развитие. Статья 11. Региональная
Россия начала XXI века: новая ситуация и новые подходы к ее исследованию и регулированию /В.
Лексин, А. Швецов //Российский экономический журнал. – 2004. - № 11-12. – с. 15-51.
6. Регіональна політика: методологія, методи, практика / НАН України, Інститут
регіональних досліджень; Відповід. ред. М. Долішній. – Львів, 2001. – С. 11
7. Долішній М. І. Регіональна політика на рубежі ХХ–ХХІ століть: нові пріоритети – К.:
Наукова думка, 2006. – С. 17.
8. Концепція державної регіональної політики. Затверджена Указом Президента України №
341/2001 від 25 травня 2001 р.
9. Концепція державної регіональної політики України [Електронний ресурс]. – Режим
доступу : http://www. minregionbud.gov.ua
10. Лексин В. Региональная политика России: концепции, проблемы, решение /В. М. Лексин,
Е. Андреева, А. Ситников, А. Швецов //Российский экономический журнал. – 1993. - №9. – с. 50-
63.
11. Лексин В. Н. К методологии исследования и регулирования процессов территориального
развития /В. Н. Лексин //Регион : экономика и социология. – 2009. - №3. – с. 20.
12. Шульц С. Економічний простір України : формування, структурування та управління /С.
Шульц. – Львів : ІРДНАМ України, 2010. – 408 с. (Серія «Проблеми регіонального розвитку»).
13. Регіони України: проблеми та пріоритети соціально-економічного розвитку. Монографія
/За ред. З. С. Верналія. – К.: Знання України, 2005. – 498 с.
14. Нижник Н. Р. Національна безпека України /Н.Р. Нижник, Г.П. Ситник, В.Т. Білоус. – К.,
2000. – С. 218.
15. Региональные проблемы переходной экономики /Под ред. Алаева В. Г. – М.: Экономика.
– 2006.
16. Інституційне забезпечення регіональної політики та практика взаємодії органів влади в
Україні / Дацишин М., Керецман В. – К.: В-во «К.І.С.», 2007. – 102 с.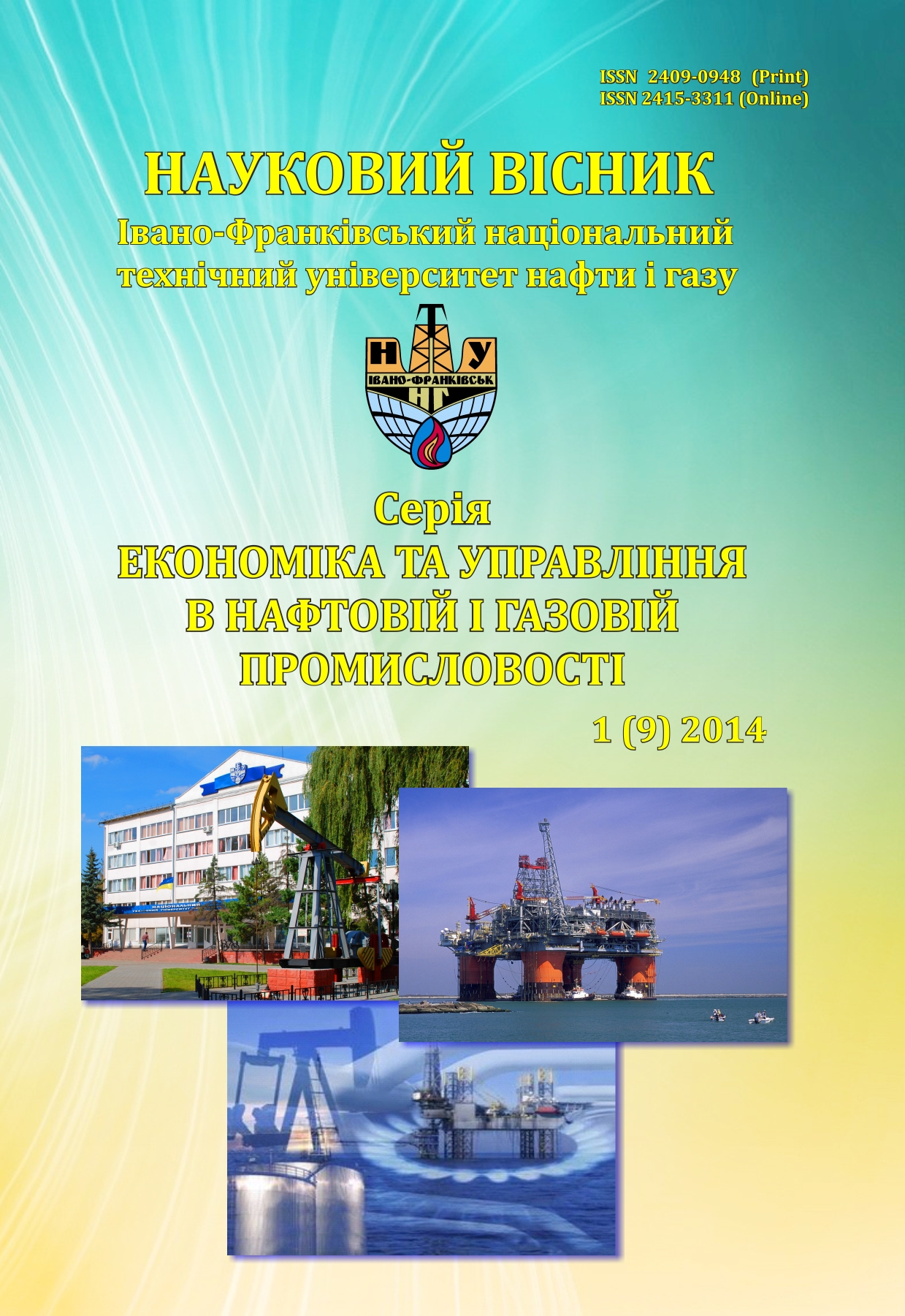 How to Cite
Сімків, Л. (2014). Features of the formation of regional policy of Ukraine during transformational changes. Scientific Bulletin of Ivano-Frankivsk National Technical University of Oil and Gas (Series: Economics and Management in the Oil and Gas Industry), 1(9), 96-102. Retrieved from http://eung.nung.edu.ua/index.php/ecom/article/view/198
Section
THEORETICAL PROBLEMS OF ECONOMICS AND MANAGEMENT