PROJECT MANAGEMENT IN BUSINESS: APPLICATION IN THE CONTEXT OF INTERACTION WITH FUNCTIONAL AND PROCESSING APPROACHES
Keywords:
project management, management concepts, functional approach, process approach, business processes
Abstract
In the process of economical shifting to an innovative type of development, implementation of investment and innovation projects, a considerable attention is paid to project management. Project management, like change management, is a well-developed field of management theory. Project management implies the application of certain approaches, the most common are functional and process approaches. The purpose of the article is to consider the application of project management in the context of interaction with functional and process approaches. Critical analysis of scientific views on functional and process management is carried out. It is proved that, in spite of all the advantages of the process approach, it is the functional specialization that provides the least costly execution of individual operations within the business process of the project. The result of both functional and process approaches is the simultaneous design of the organizational structure (functional areas) and the order of interaction within this structure (processes). The interaction and combination of functional and process approaches from the point of view of project management are highlighted. Due to this, a comparative analysis has been made on the criteria: orientation approaches, the interaction of structural units, the principle of constructing the organizational structure, the object of management, the concentration of management, the efficiency of the units, the information exchange, the speed of the adoption of managerial decisions. It is emphasized that in project management considerable attention is paid to effective coordination of work of separate units and strengthening of constructive interaction between functional units involved in the project. Thus, it has been proved that the synergy between functional, process and project approaches ensure manageability, efficiency in decision-making and increasing the efficiency of business processes.
References
Andrusiv U.Ia. Innovatsiino-investytsiine zabezpechennia rozvytku pidpryiemstv sfery vyrobnytstva budivelnykh materialiv / U. Ya. Andrusiv // Naukovo-Teoretychnyi zhurnal "Nauka y ekonomika". - 2015.- Vyp. №2 (38). – S. 69-75.
Andrusiv U. Ya., Havadzyn N. O. Udoskonalennia napriamiv innovatsiinoho rozvytku doslidnykh pidpryiemstv yak vazhlyvoi skladovoi zabezpechennia transformatsiinykh protsesiv / U. Ya. Andrusiv, N. O. Havadzyn // Hlobalni ta natsionalni problemy ekonomiky. ‒ № 15. – 2017. ‒ C. 166-169.
Novakivs'kyj, I.I. (2009), "Proektno orijentovana organizacijna systema upravlinnja jak cil' evoljucii' proektnogo menedzhmentu", Problemy ekonomiky ta upravlinnja: visnyk Nacional'nogo universytetu "L'vivs'ka politehnika", Vol. 640, pp. 163–174.
Berezin, V. (2009), "Sovremennye tendentsii primeneniya proektnogo menedzhmenta v upravlenii organizatsiyami", available at: www.botexpert.com.ua/ProfConsult/ProfConsult_766.html (accessed 11 July 2016).
Bushuev, S.D. and Bushueva, N.S. (2005), "Sovremennye podkhody k razvitiyu metodologiy upravleniya proektami", Upravlіnnya proektami ta rozvitok virobnitstva, No. 1 (13), pp. 5–19.
Grey, K. F., Larson, E. U. (2003), Upravlenie proektami [Tekst]: prakticheskoe rukovodstvo. Per. s angl [Project Management: a practical guide.]. Moscow, Delo i servis, 528 p.
Wagner, R., "Deferent stages of organizational development during progetification", available at: http://blog.ipma.world/wp-content/cache/supercache/blog.ipma.ch/different-stages-of-organisationaldevelopment-during-projectification/index.html.gz (accessed 17 June 2016).
Ansoff, I. (1989), Strategic Management [Strategicheskoye upravleniye], Economic, Moscow, 519 p.
Gershun, A. (2006), Technologies of the balanced management [Tekhnologii sbalansirovannogo upravleniya], Olimp-Biznes, Moscow, 416 р.
Ivanov, Ju. B. (2004), The competitiveness of enterprises: assessment, diagnosis, strategy [Konkurentosposobnost' predprijatija: ocenka, diagnostika, strategija], HNEU, Kharkiv, 256 p.
Niemtsov, V.D., Dovgan', L.Ye. (2002), Strategic management [Stratehichnyi menedzhment], UVPK EksOB, Kyiv, 560 p.
Porter, M.E. (1997), Strategy of competitiveness [Stratehiia konkurentsii], Osnovy, Kyiv, 390 p.
Redchenko, K. I. (2000), Strategic analysis of business [Stratehichnyi analiz u biznesi], 272 p.
Tompson, A., Stryklend, A.Dzh. (2005), Strategic Management: Concepts and situations for analysis [Strategycheskyj menedzhment: koncepcyy y sytuacyy dlja analyza], Williams, Moscow, 928 p.
Fathutdynov, R.A. (2004), Organization competitiveness management [Upravlenye konkurentosposobnost'ju organyzacyy], Eksmo, Moscow, 544 p.
ANSI/PMI 99-001-2004 (2004), A Guide to the Project Management Body of Knowledge, 3rd ed., (PMBOK Guide) an American National Standard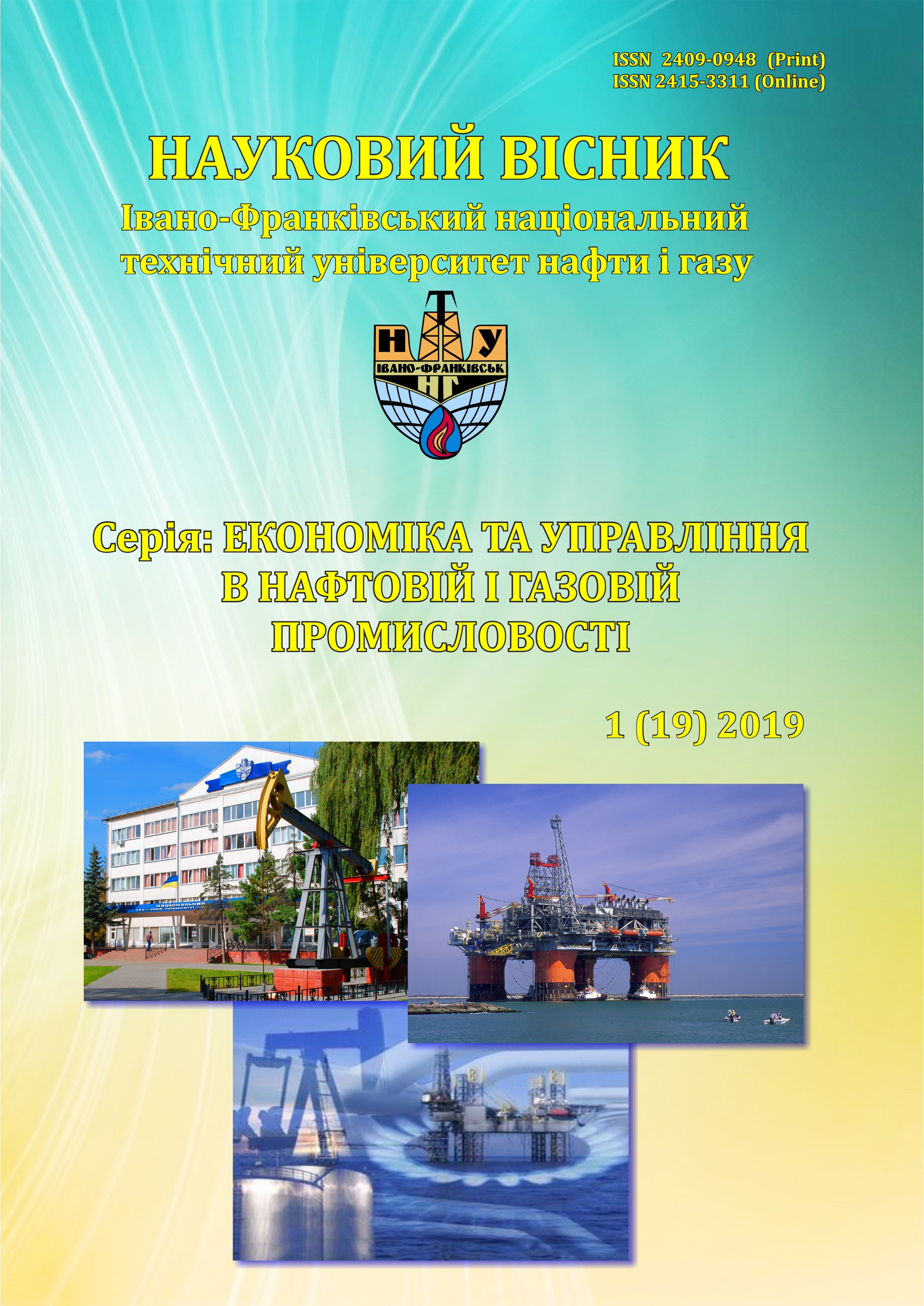 How to Cite
Cherchata, A. O. (2019). PROJECT MANAGEMENT IN BUSINESS: APPLICATION IN THE CONTEXT OF INTERACTION WITH FUNCTIONAL AND PROCESSING APPROACHES. Scientific Bulletin of Ivano-Frankivsk National Technical University of Oil and Gas (Series: Economics and Management in the Oil and Gas Industry), (1(19), 172-179. https://doi.org/10.31471/2409-0948-2019-1(19)-172-179
Section
ECONOMICS AND MANAGEMENT OF THE OTHER ACTIVITIES
Copyright and Licensing Terms
Copyright Statement
The authors who publish in the journal accept the following conditions:
The authors retain the copyright and grant the journal the right of first publication, licensed with Creative CommonsCC BY-NC-SA , which permits other people to remix, transform, and build upon the material and use the material for non-commercial purposes, give appropriate credit and distribute the contributions under the same license as the original.
The authors can conclude additional agreements on the non-exclusive distribution of the journal's published version of the work (for example, publication of the work in electronic repositories) with an acknowledgment of its initial publication in this journal.
The authors can upload the published articles on the Internet (for example, in electronic repositories or on web-sites), as it will stimulate fruitful scholarly discussions and increase the citation rates of the published articles.