Economic Essence of Value Added Tax
С. В. Хома

В. К. Орлова

С. М. Кафка

Н. К. Василенко
Keywords:
Value added tax, value added, methods of calculating the value added tax.
Abstract
The value added tax object was considered in accordance with the current legislation. The
components of added value and the procedure of their allocation were analyzed. Approaches to reform the
VAT by applying alternative methods for determining tax liabilities, that can increase the efficiency of its
collection and can consider such main disadvantage of VAT as its reimburse nature, were suggested.
References
1. Стужук Т.М., Джуравець М.В. Оподаткування ПДВ в Україні: позитивні та негативні
сторони [Електронний ресурс]. – Режим доступу : http://intkonf.org/stuzhuk-t-m-dzhuravets-mvopodatkuvannya-
pdv-v-ukrayini-pozitivni-ta-negativni-storoni/.
2. Современная энциклопедия Електронний ресурс. – Режим доступу: http://encdic.
com/enc_modern/Dobavlennaja-Stoimost-3527.html – назва з титул. екрану.
3. Уллубієва К.К. Добавлена та додана вартість: сутність та взаємозв'язок понять в
бухгалтерському обліку / К.К. Уллубієва // Вісник Житомирського державного технологічного
університету / Серія: Економічні науки. – Житомир: ЖДТУ, 2009. – № 4 (50). – С. 170-173.
4. Світовий О.М. Додана вартість та її роль у розвитку агропромислового комплексу України /
О.М. Світовий // Наукові праці Полтавської державної аграрної академії / Серія: Економічні науки.
Електронний ресурс. – Режим доступу:
https://www.pdaa.edu.ua/sites/default/files/nppdaa/6.2/264.pdf
5. Ковальчук К. Ф. ПДВ: ефективність і проблеми справляння / Т. М. Рева, К. Ф. Ковальчук //
Вісник Академії митної служби України. Сер. : Економіка. - 2009. – № 1. – С. 124-130.
Електронний ресурс – Режим доступу: http://nbuv.gov.ua/UJRN/vamsue_2009_1_19
6. Уллубієва К.К. Методи обчислення ПДВ: обліковий аспект / К.К. Уллубієва // Проблеми
теорії та методології бухгалтерського обліку, контролю і аналізу. Міжнародний збірник наукових
праць. / Бухгалтерський облік, контроль і аналіз. – Житомир: ЖДТУ, 2010. – Вип. 2 (17). – С. 338-
345.
7. Семенко Т. М. Податок на додану вартість як економічна категорія / Т. М.Семенко //
Ефективна економіка. 2011. – № 4 – Електронний ресурс. – Режим доступу:
http://www.economy.nayka.com.ua/?op=1&z=527
8. Амоша О.О. Механізм оподаткування доданої вартості в Україні: автореф. дис. на здобуття
наук. ступеня канд. екон. наук: спец. 08.04.01 ―Фінанси, грошовий обіг і кредит‖ / Олена
Олександрівна Амоша – К., 2005. – 22 с.
9. Волканов В.Д. Механізм справляння податку на додану вартість в Україні: автореф. дис. на
здобуття наук. ступеня к.е.н. за спец. 08.04.01 ―Фінанси, грошовий обіг і кредит‖ / Валентин
Дмитрович Волканов. – Одеса, 2006. – 22 с.
10. Соколов И.А. Анализ целесообразности применения прямого метода взимания НДС
Електронний ресурс – Режим доступу: http://www.iep.ru/ru/analiz-tcelesoobraznosti-primeneniiapriamogo-
metoda-vzimaniia-nds.html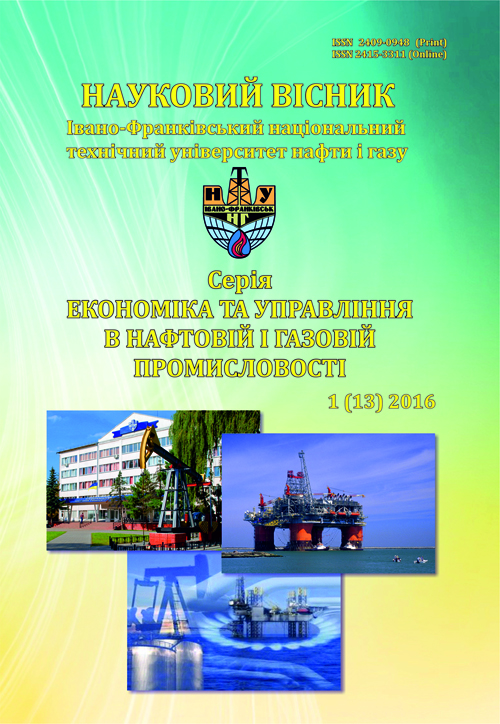 How to Cite
Хома, С. В., Орлова, В. К., Кафка, С. М., & Василенко, Н. К. (2018). Economic Essence of Value Added Tax. Scientific Bulletin of Ivano-Frankivsk National Technical University of Oil and Gas (Series: Economics and Management in the Oil and Gas Industry), 1(13), 72-77. Retrieved from http://eung.nung.edu.ua/index.php/ecom/article/view/51
Section
THEORETICAL PROBLEMS OF ECONOMICS AND MANAGEMENT
Copyright and Licensing Terms
Copyright Statement
The authors who publish in the journal accept the following conditions:
The authors retain the copyright and grant the journal the right of first publication, licensed with Creative CommonsCC BY-NC-SA , which permits other people to remix, transform, and build upon the material and use the material for non-commercial purposes, give appropriate credit and distribute the contributions under the same license as the original.
The authors can conclude additional agreements on the non-exclusive distribution of the journal's published version of the work (for example, publication of the work in electronic repositories) with an acknowledgment of its initial publication in this journal.
The authors can upload the published articles on the Internet (for example, in electronic repositories or on web-sites), as it will stimulate fruitful scholarly discussions and increase the citation rates of the published articles.