HUMAN RESOURCES AS A FACTOR OF PROVIDING UKRAINE SOCIAL SECURITY SYSTEM IN MODERN CONDITIONS
Keywords:
human resources, welfare, human development index, social security
Abstract
The purpose of the article is to research and analyze indicators that directly effect on the level of country's human resources development, and assessment of Ukraine's rating place among other countries. The following methods of scientific research, such as generalization, comparison and analysis were used to achieve the goal.
The attention is focused on the fact that in conditions of post-industrial economy, the role of human and its knowledge increase, resulting in implementing the human development concept. This concept is aimed at forming measures to prevent the population impoverishment, unemployment, loss of health by stimulating human development, increasing its role in society, and, at the same time, increasing responsibility to society. The main task of the concept is to ensure the welfare of the person.
The article shows the comparative assessment of Ukraine's ranking among other countries  according to the human development index and its components. The following indicators such as gross national income per capita, average and expected duration of training, average life expectancy at birth were analyzed.
It was agreed that economic ability to create and use human resources to a greater extent determines human well-being and is the main criteria for assessing the social security level. Since the background for well-being is income, education, and human health, social security becomes an integrating link between the modern concept of human development and the state social policy. In this manner, everything that reduces welfare, harms a particular person and society as a whole are factors that threaten social security. In this context human resources emerged as a key resource to the state development.
References
Nykerova T. A. Osobennosty otsenky chelovecheskoho kapytala (Features of the assessment of human capital)/ T. A. Nykerova // Rehyonalnaia эkonomyka: problemы teoryy y praktyky: mezhvuzovskyi sbornyk nauch. trud.: Vladym. hos. human. un-t.( Regional economy: problems of theory and practice: Interuniversity collections of scientific. labor: Vlad. state humane un)– Vladymyr, 2010. – S. 138 – 146.
Brych V. Ya. Liudski resursy yak chynnyk zabezpechennia konkurentospromozhnosti pidpryiemstva(Human Resources as a Factor for Ensuring Competitiveness of the Enterprise) / V. Ya. Brych, O. Z. Kolodnytska //
Innovatsiina ekonomika.-№4.-2015.-S.72-76.
Danyliuk –Chernykh I. M. Upravlinnia rozvytkom liudskykh resursiv na zasadakh sintelektyky(Management of development of human resources on the principles of sintelectics): dys. … kand. . ekon. nauk. :08. 00. 04/ Iryna Mykolaivna Danyliuk –Chernykh. – Ivano –Frankivsk, 2015. –218 s.
Kis S. Ya. Biznes-protsesy ta liudski resursy pidpryiemstva yak obiekty intelektualizatsii(Business Processes and Human Resources of the Enterprise as Objects of Intellectualization)/ S. Ya. Kis // Naukovyi visnyk Bukovynskoho derzhavnoho finansovo-ekonomichnoho universytetu. Ekonomichni nauky: zbirnyk naukovykh prats.( Scientific Bulletin of the Bukovinian State Financial-Economic University. Economic sciences: a collection of scientific works.) Vyp. 28. Ch. 1. – Chernivtsi: Vydavnychyi dim «Helvetyka», 2015. – S. 99-102.
Kovtun N. Formuvannia konkurentnykh perevah liudskykh resursiv u natsionalnii ekonomitsi (ormation of competitive advantages of human resources in the national economy)/ N. Kovtun // Biznes Inform. – 2014. – № 4. – S. 29–34.
Sardak S. Evoliutsiia pohliadiv na zmist i rol liudskykh resursiv u suspilnomu postupi / S. Sardak (Evolution of views on the content and role of human resources in social progress)// Aktualni problemy ekonomiky. – 2012. – № 12. – S. 132–139.
Sotsialno-trudovi vidnosyny zainiatosti: suchasni tendentsii, vyklyky, shliakhy rozvytku : [monohrafiia] (Social-employment relations of employment: modern tendencies, challenges, ways of development: [monograph]) / [A.M. Kolot, I.F. Hnybidenko, O.O. Herasymenko ta in.] ; za nauk. red. A.M. Kolota, I.F. Hnybidenka. – K. : KNEU, 2015. – 295 s.
Revtiuk Ye. A. Kontseptsiia planuvannia liudskykh resursiv kriz pryzmu teorii upravlinnia liudskym kapitalom (Concept of human resource planning through the prism of the theory of human capital management) / Ye. A. Revtiuk // Visnyk Khmelnytskoho natsionalnoho universytetu.( Bulletin of the Khmelnitsky National University) – 2015. — №2, tom 2.– S. 280—284.
Harashchuk O. Sotsialna skladova natsionalnoi bezpeky ta staloho rozvytku v umovakh hlobalizatsii Ekonomichnyi analiz. (ocial component of national security and sustainable development in a globalizing environment Economic analysis) 2017 rik. Tom 27. № 1. S.28-34
Danylyshyn B. Sotsialna bezpeka – pidgruntia staloho rozvytku (Social Security - The Basis for Sustainable Development )/ B. Danylyshyn, V. Kutsenko // Visnyk NAN Ukrainy. – 2010. – №1. – S. 20-28.
Sotsialna bezpeka: teoriia ta ukrainska praktyka : monohrafiia (Social Security: Theory and Ukrainian Practice: Monograph)/ [I.F. Hnybidenko, A.M. Kolot, O.F. Novikova ta in.] ; za red. I.F. Hnybidenka, A.M. Kolota, V.V. Rohovoho. – K.: KNEU, 2006. – 292 s.
Kutsenko V.I. Sotsialna bezpeka v konteksti staloho rozvytku (Social Security in the Context of Sustainable Development)/ Kutsenko V.I., Udovychenko V.P. – Chernihiv: Vydavets Lozovyi V.M., 2010. – 652 s.
Khomra O. U., Rusanova T. Ye. Sotsialna bezpeka: vyklyky, zahrozy, kryterii problemy natsionalnoi bezpeky(Social Security: Challenges, Threats, Criteria for the Problem of National Security) // Stratehichna panorama. –2004. – № [Elektronnyi resurs]. – Rezhym dostupu: http://niisp.gov
Kopenhahinska deklaratsiia pro sotsialnyi rozvytok (Copenhagen Declaration on Social Development )[Elektronnyi resurs].–Rezhym dostupu: http://zakon2.rada.gov.ua/laws/show/995_505? find=1&text=%F1%EE%F6%E8%E0%EB%FC%ED%E0%FF+%E1%E5%E7%EE%EF%E0%F1%ED%EE%F1%F2%FC
Prohrama rozvytku OON: Dopovid pro liudskyi rozvytok 2018 (United Nations Development Program: Human Development Report 2018 )[Elektronnyiresurs].http://hdr.undp.org/sites/default/files/2018_human_development_statistical_update.pdf
Valovyi vnutrishnii produkt: Finansovyi portal Minfin(Gross Domestic Product: Financial Portal of the Ministry of Finance) [Elektronnyi resurs]. — Rezhym dostupu: http:/ /index.minfin.com.ua/index/gdp/
Ofitsiinyi sait Derzhavnoi sluzhby statystyky Ukrainy(Official site of the State Statistics Service of Ukraine ) [Elektronnyi resurs]. — Rezhym dostupu: http://www.ukrstat.gov.ua/
Kravchenko N.V. Sotsialni investytsii: sutnist i rol u formuvanni resursnokompetentsiinoi bazy pidpryiemstva (Social investment: the essence and role in the formation of the resource-computing base of the enterprise ) [Elektronnyi resurs] / N.V. Kravchenko, T.M. Kovalchuk // Hlobalni ta natsionalni problemy ekonomiky.( Global and national problems of the economy.) — 2017. — №15. — Rezhym dostupu: http:// globalnational.in.ua/issue152017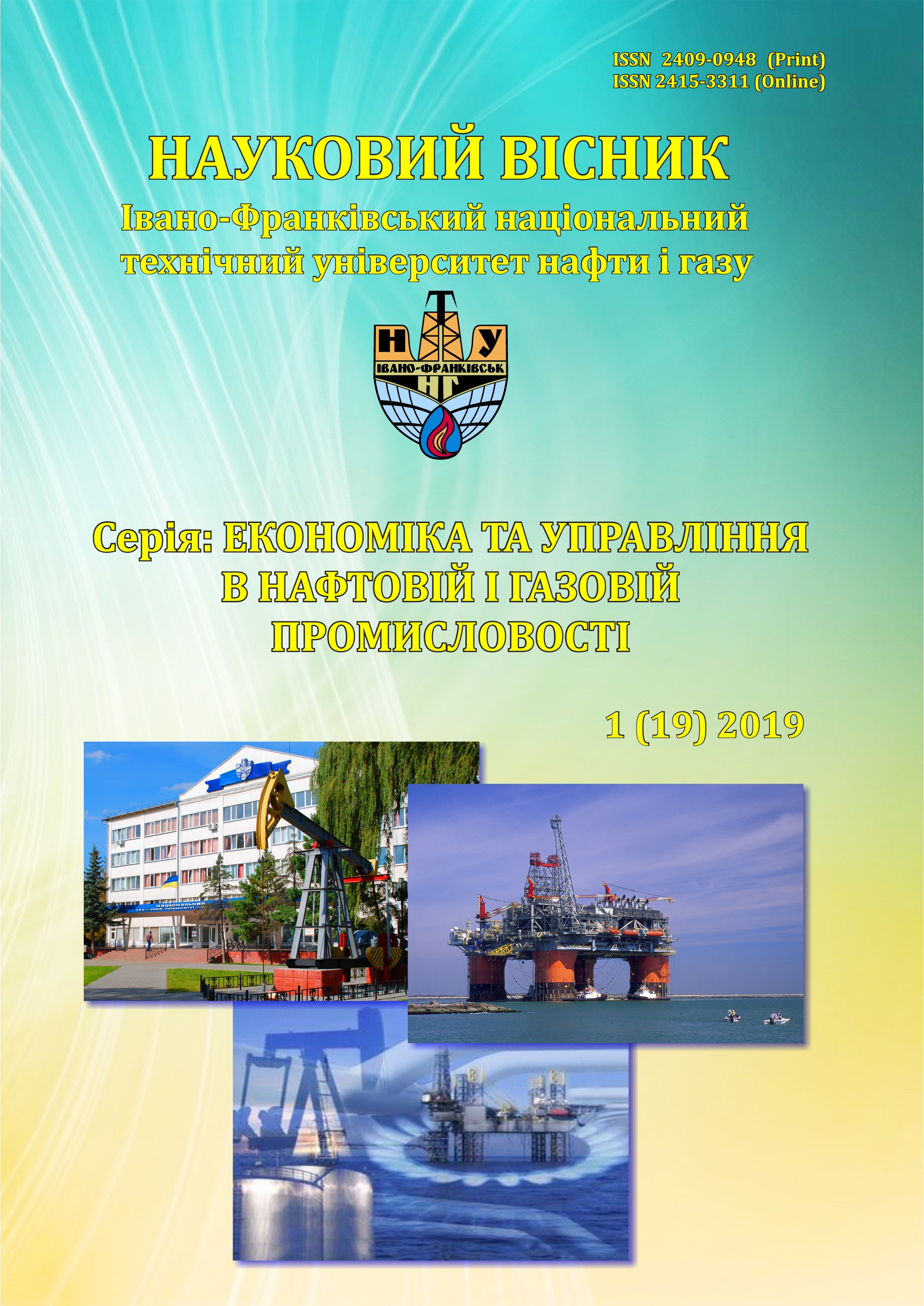 How to Cite
Stavnycha, N. I. (2019). HUMAN RESOURCES AS A FACTOR OF PROVIDING UKRAINE SOCIAL SECURITY SYSTEM IN MODERN CONDITIONS. Scientific Bulletin of Ivano-Frankivsk National Technical University of Oil and Gas (Series: Economics and Management in the Oil and Gas Industry), (1(19), 124-132. https://doi.org/10.31471/2409-0948-2019-1(19)-124-132
Section
THEORETICAL PROBLEMS OF ECONOMICS AND MANAGEMENT
Copyright and Licensing Terms
Copyright Statement
The authors who publish in the journal accept the following conditions:
The authors retain the copyright and grant the journal the right of first publication, licensed with Creative CommonsCC BY-NC-SA , which permits other people to remix, transform, and build upon the material and use the material for non-commercial purposes, give appropriate credit and distribute the contributions under the same license as the original.
The authors can conclude additional agreements on the non-exclusive distribution of the journal's published version of the work (for example, publication of the work in electronic repositories) with an acknowledgment of its initial publication in this journal.
The authors can upload the published articles on the Internet (for example, in electronic repositories or on web-sites), as it will stimulate fruitful scholarly discussions and increase the citation rates of the published articles.