INNOVATIVE INFRASTRUCTURE DEVELOPMENT AND SUSTAINABLE INDUSTRIALIZATION
Keywords:
: infrastructure, innovation development, industrialization, globalization, resource potential
Abstract
The article examines the essence, preconditions of formation and development of innovative infrastructure on the course to sustainable industrialization. The author considers the modern tendencies of technological infrastructure development of Ukraine. Such tendencies while globalization demand radical transformations for overcoming of economic backwardness that step up the country on the new level of industrialization. We comparatively evaluated development tendencies of innovative infrastructure using «Global Competitiveness Index», «Global Innovation Index» and several other indicators, demonstrated the resource potential of the country and explained its position in the world ranking. We outlined the shortcomings and risks associated with urbanization, environmental pollution, limited resources, etc. The article shows the causal link between political, institutional, socio-economic, environmental and other factors on the road to sustainable industrialization. It has been proved that the main priorities of each country in defining the strategy of infrastructure development and sustainable industrialization should be focused on healthy pragmatism and national interests.
We investigated that the optimization of the taxational load; observance of a certain proportion between sectors of the national economy; decentralization of power; improvement of antimonopoly policy; development of an effective policy request to reduce anthropogenic load; use of alternative energy; training and retraining of staff and many other aspects requires intensified attention. These aspects are the constitute of an integrated approach to the implementation of strategic orientations for competitiveness, innovation and sustainable development.
References
Infrastrukturne zabezpechennia formuvannia i funktsionuvannia rynku produktsii ovochivnytstva : [monohrafiia] / O.M. Vyshnevska, I.M. Lesik. – Mykolaiv : FOP Shvets V.M., 2017. – 324 s.
Innovatsiina Ukraina 2020 : natsionalna dopovid / za zah. red.V.M. Heitsia ta in. ; NAN Ukrainy. – K., 2015. – 336 s.
Antokhov A. A. Innovatsiinyi rozvytok ekonomiky Ukrainy cherez pryzmu zarubizhnoho dosvidu / Antokhov A. A. // Naukovyi visnyk Mykolaivskoho natsionalnoho universytetu imeni V. O. Sukhomlynskoho. Ekonomichni nauky. – № 2 (5), lystopad 2015. – Mykolaiv : MNU imeni V. O. Sukhomlynskoho, 2015. – S. 7-15.
Liu Zhenmin (2018) Time for a Global Financial Makeover [Electronic resource] – Access mode : https://www.project-syndicate.org/commentary/global-finance-and-sustainable-development-by-liu-zhenmin-2018-04?barrier=accesspaylog.
Shatnenko K. O. Nova industrializatsiia : svitova tendentsiia ta perspektyvy dlia Ukrainy / K. O. Shatnenko // Naukovyi visnyk Uzhhorodskoho universytetu. Seriia «Ekonomika». – 2016. – №2 (48). – S. 56-61.
Damberg M. (2016) Smart industry – a strategy for new industrialisation for Sweden / Information material, Ministry of Enterprise and Innovation. – Access mode : https://www.government.se/498615/contentassets/3be3b6421c034b038dae4a7ad75f2f54/nist_statsformat _160420_eng_webb.pdf
Pro innovatsiinu diialnist : [Elektronnyi resurs] : Zakon Ukrainy vid 04.07.2002. № 40-IV. – Rezhym dostupu : https://zakon.rada.gov.ua/laws/show/40-15.
Babaiev V.Iu. Formuvannia innovatsiinoi infrastruktury Ukrainy / V.Iu. Babaiev, V.O. Poronko // Teoriia ta praktyka derzhavnoho upravlinnia. – 2011. – Vyp. 3. –S. 165-171.
Polishchuk O.V Formuvannia suchasnoi innovatsiinoi infrastruktury v protsesi hlobalizatsii svitovoho rynku / O.V Polishchuk [Elektronnyi resurs] : Mizhnarodni vidnosyny. – 2017. – № 10 – Rezhym dostupu : http://journals.iir.kiev.ua/index.php/ec_n/article/view/3106.
The Global Competitiveness Report 2018 [Electronic resource] : The World Economic Forum. – Access mode : http://reports.weforum.org/global-competitiveness-report-2018/country-economy-profiles/.
Singer P. L. (2017) Investing in «Innovation Infrastructure» to Restore U.S. Growth / Information technology & Innovation foundation. – Access mode : http://www2.itif.org/2017-innovation-infrastructure.pdf?_ga=2.49230694.1792391832.1529934284-1559993869.1449863882.
Długookresowa Strategia Rozwoju Kraju «Polska 2030. Trzecia fala nowoczesności»: [Electronic resource] – Access mode : http://kigeit.org.pl/FTP/PRCIP/ Literatura/ 002_Strategia_DSRK_PL2030_RM.pdf.
Peculiarities of formation and development the financial infrastructure of Ukraine / I. Lesik, H. Karatieieva // Social and economic aspects of sustainable development of regions, Book 2. Monograph. Opole : The Academy of Menegement and Administation in Opole, 2018. – S. 116-123.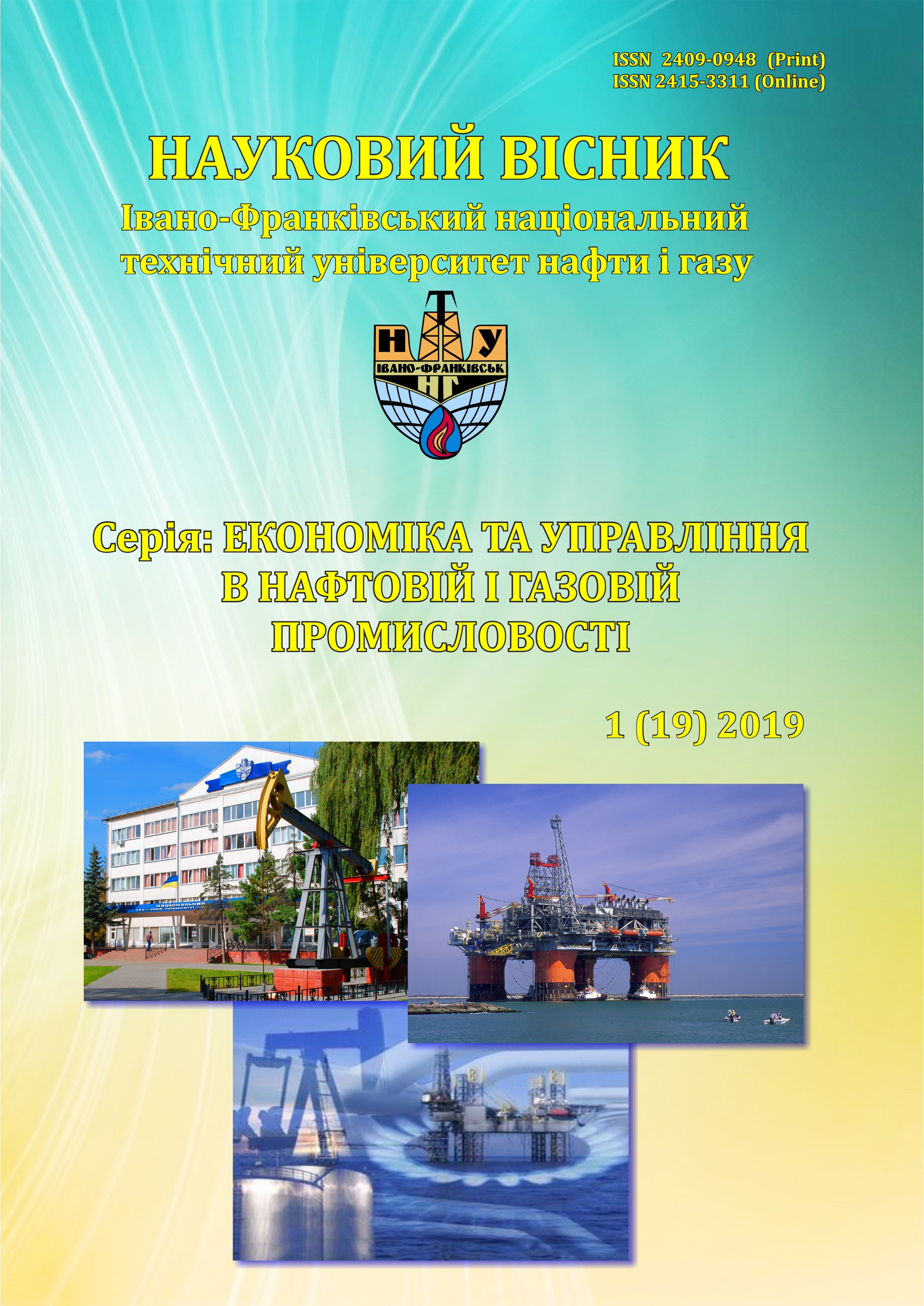 How to Cite
Lesik, I. M. (2019). INNOVATIVE INFRASTRUCTURE DEVELOPMENT AND SUSTAINABLE INDUSTRIALIZATION. Scientific Bulletin of Ivano-Frankivsk National Technical University of Oil and Gas (Series: Economics and Management in the Oil and Gas Industry), (1(19), 109-116. https://doi.org/10.31471/2409-0948-2019-1(19)-109-116
Section
THEORETICAL PROBLEMS OF ECONOMICS AND MANAGEMENT
Copyright and Licensing Terms
Copyright Statement
The authors who publish in the journal accept the following conditions:
The authors retain the copyright and grant the journal the right of first publication, licensed with Creative CommonsCC BY-NC-SA , which permits other people to remix, transform, and build upon the material and use the material for non-commercial purposes, give appropriate credit and distribute the contributions under the same license as the original.
The authors can conclude additional agreements on the non-exclusive distribution of the journal's published version of the work (for example, publication of the work in electronic repositories) with an acknowledgment of its initial publication in this journal.
The authors can upload the published articles on the Internet (for example, in electronic repositories or on web-sites), as it will stimulate fruitful scholarly discussions and increase the citation rates of the published articles.