GLOBAL ENVIRONMENTAL PRIORITIES OF SOCIETY DEVELOPMENT
Keywords:
globalization, global sustainable development goals, environmental risks, partnership, climate policy, global challenges, rational consumption
Abstract
The main object of the article is to identify the global environmental priorities of the development of society on the partnership basis, also taking into account certain international directions of leveling of environmental threats as well as global warming. The research is based on theoretical substantiation and practical introduction of a systematic approach in implementing the environmental policy of states on the terms of partnership. We determined the core characteristics of global ecological priorities of the society development, global ecological policy, principles of international agreements under the UN Framework Convention on Climate Change, and global goals of sustainable development. We defined the characteristics of a partnership for carrying out ecological policy with the goal of leveling global threats. We determined the possibilities of realizing the systemic approach in the development of society in view of global environmental priorities, ratified international agreements, and global goals of sustainable development. In accordance with the global goals of sustainable development, we generalized the principle courses for implementing environmental measures at different standards. It has been determined that the systematic actions in the implementation of ratified commitments by various state governments require significant changes to internal environmental policy, incentives for all participants to implement the predetermined measures, state incentive policy, and the dissemination of environmental knowledge. We determined that the global environmental priorities of the society development are closely linked with the possibility of introducing an action strategy for reforming to a rational model of consumption and production, which would involve all countries all over the world, considering the development and potential of the states, the progress toward rational development and efficient use of natural resources, and rational use of chemical products and other wastes throughout their life cycle in accordance with internationally agreed principles. All measures must be implemented on the basis of partnership.
References
Belorus O.H. Эkonomycheskaia systema hlobalyzma. [Tekst]. K.: YMEMO, KNEU, NANU, 2003. 380 s.
Halchynskyi A.S. Hlobalni transformatsii: kontseptualni alternatyvy: Metodolohichni aspekty [Tekst]. Instytut stratehichnykh otsinok. K. : Lybid, 2006. 310 s.
Herst P., Tompson H. Sumnivy v hlobalizatsii. [Tekst] / Per. z anhl. K.: K.I.S., 2002.306 s.
Robertson R. Globalization or glocalization?[Text]// Robertson R. White K. E. (Ed.) Globalisation. Critical concept in sociology. Volume III, London 2003, p.p.31-51.
Nort D. Ponymanye protsessa эkonomycheskykh yzmenenyi [Tekst]. Perevod s anhl. K.Martыnova, N. Эdelmana. Vыsshaia shkola эkonomyky, 2010. 256 s.
Vlasov V.I. Hlobalistyka : istoriia, teoriia : monohrafiia / nauk.red.akad. NAAN Ukrainy O.H. Bilorus i chl.-kor. NAAN Ukrainy V.A.Verhunov. Vinnytsia : TOV «Nilan-LTD», 2012. 856 s.
Vlasov V.I. Hlobalistyka : istoriia, teoriia. Istorychni aspekty nauky hlobalistyky : monohrafiia [v 2 t.] / nauk.red.akad. NAAN Ukrainy O.H. Bilorus i chl.-kor. NAAN Ukrainy V.A.Verhunov. Vinnytsia : TOV «Nilan-LTD», 2012. 570 s.
Tsili staloho rozvytku http://www.un.org.ua/ua/tsili-rozvytku-tysiacholittia/tsili-staloho-rozvytku (data zvernennia: 20.02.2019)
Paryzka uhoda: http://zakon.rada.gov.ua/laws/show/995_l61 (data zvernennia: 22.03.2019)
Klimatychna polityka Ukrainy: https://menr.gov.ua/content/klimatichna-politika-ukraini.html (data zvernennia: 25.02.2019)
Zakon Ukrainy «Pro otsinku vplyvu na dovkillia»: http://zakon3.rada.gov.ua/laws/show/2059-19 (data zvernennia: 27.02.2019)
Wheelan C. Naked economics. Undressing the Dismal Science/ N.Y.; London: W.W. Norton&Company, 2010. 384 p.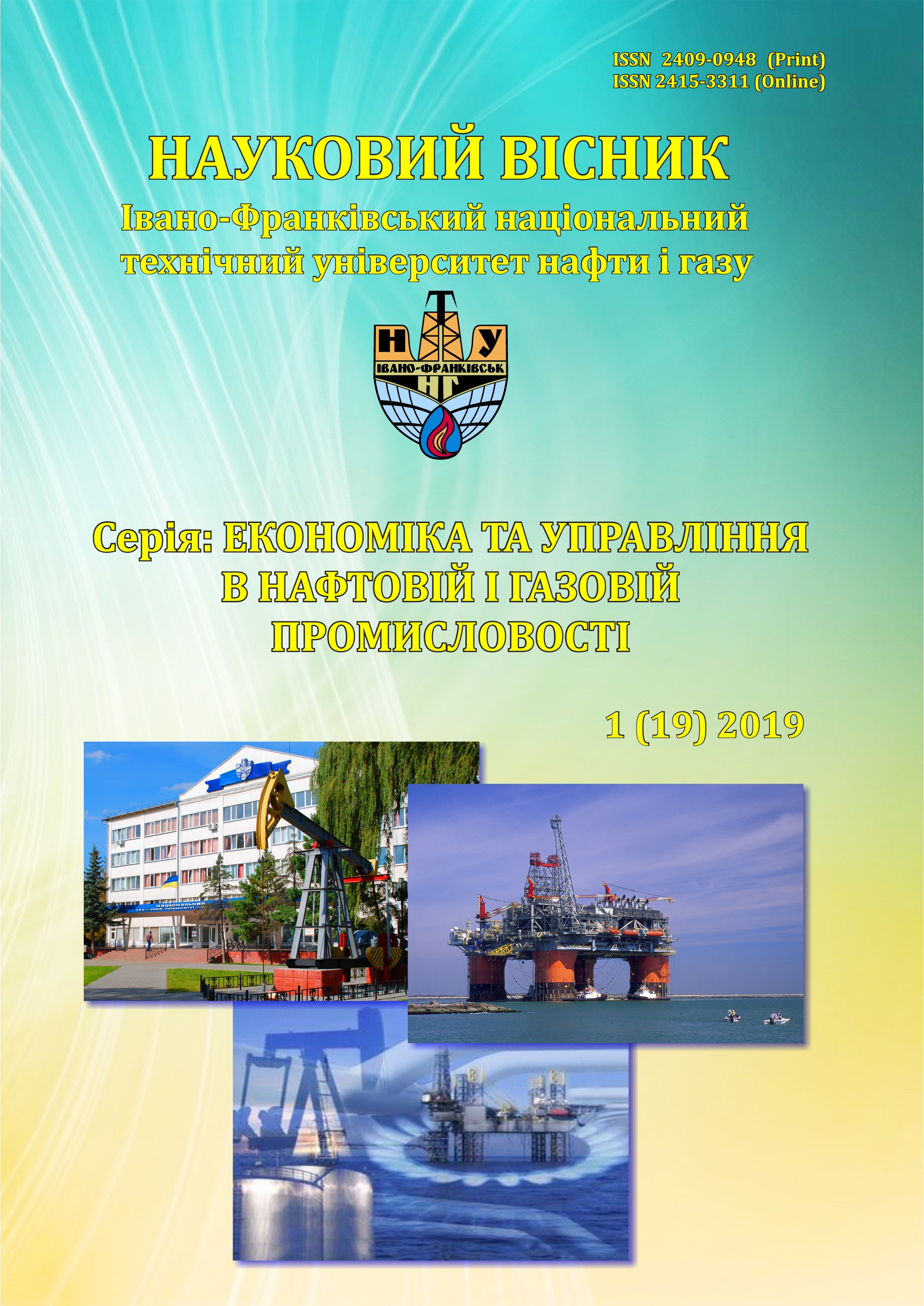 How to Cite
Vyshnevska, O. M. (2019). GLOBAL ENVIRONMENTAL PRIORITIES OF SOCIETY DEVELOPMENT. Scientific Bulletin of Ivano-Frankivsk National Technical University of Oil and Gas (Series: Economics and Management in the Oil and Gas Industry), (1(19), 75-83. https://doi.org/10.31471/2409-0948-2019-1(19)-75-83
Section
THEORETICAL PROBLEMS OF ECONOMICS AND MANAGEMENT
Copyright and Licensing Terms
Copyright Statement
The authors who publish in the journal accept the following conditions:
The authors retain the copyright and grant the journal the right of first publication, licensed with Creative CommonsCC BY-NC-SA , which permits other people to remix, transform, and build upon the material and use the material for non-commercial purposes, give appropriate credit and distribute the contributions under the same license as the original.
The authors can conclude additional agreements on the non-exclusive distribution of the journal's published version of the work (for example, publication of the work in electronic repositories) with an acknowledgment of its initial publication in this journal.
The authors can upload the published articles on the Internet (for example, in electronic repositories or on web-sites), as it will stimulate fruitful scholarly discussions and increase the citation rates of the published articles.