ПЕРСПЕКТИВИ ВИКОРИСТАННЯ «ЗЕЛЕНОЇ ЕКОНОМІКИ» В АЗЕРБАЙДЖАНІ
Keywords:
зелена економіка, сталий розвиток, енергетика, енергоефективність, відновлювані джерела енергії.
Abstract
У статті розглядаються дані про перспективні напрямки розвитку "зеленої економіки" Азербайджану, реалізації Національної стратегії з використання альтернативних, відновлюваних джерел енергії.
Сучасна економіка і суспільство в цілому стикаються зі значною кількістю проблем, які формують систему викликів для подальшого поступального розвитку. Одна з таких проблем викликана формуванням в останні десятиліття системних протиріч між процесами економічного, соціального та екологічного розвитку.
Процес глобалізації, стрімкий економічний розвиток, зростання населення через збільшений попит на природні ресурси, країни, що розвиваються мають обмежений доступ до сучасних технологій, зміна клімату та інші фактори екологічних проблем, викликаних людством, стали викликати все більшу заклопотаність. Резюме з охорони навколишнього середовища в країнах з ринковою економікою довгостроковий сталий екологічний розвиток економіки країни має велике значення для забезпечення створення економічних механізмів. Міжнародний досвід показує, що на сучасному етапі економічного розвитку, екологічного регулювання обидва методи повинні бути взаємопов'язані. Економічні механізми, описані в літературі, і заходи, що використовуються на підприємстві, впливають на економічну діяльність, хороше або погане, в залежності від відповідних позитивних або негативних стимулів для створення мічених залишків.
У той же час розвиток "зеленої" економіки як і раніше йде дуже мляво і нерівномірно, незважаючи на наявність суспільного попиту на її випереджаюче зростання, а окремі напрямки "зеленого зростання", навіть підтримувані заходами державної політики, слабо взаємопов'язані і розвиваються безсистемно. Таким чином, в сучасних умовах проблема наукового опрацювання підходів до розробки та реалізації державної політики регулювання зеленої економіки в контексті сталого розвитку, а також їх впровадження в практику функціонування органів державного управління стоїть дуже гостро.
References
Order of the President of the Republic of Azerbaijan on approval of"Azerbaijan 2030: national priorities on socio-economic development", 2021 dated February 2, 2469. [in Azerbaijanian].
State Statistical Committee of the Republic of Azerbaijan URL: www.stat.gov.az [in Azerbaijanian].
State Agency on ABOEM: URL: www.area.gov.az [in Azerbaijanian].
Vusal Gasimli, Zaur Valiyev, Mahir Humbatov, Shahmar Hajiyev – "Green Development: Energy Efficiency and alternative sources", Baku 2014 p. 51-73 [in Azerbaijanian].
Ibrahim Attila, "Evaluation of the Principle of Allocation in Taxation in Terms of Environmental Taxes", 2006, p.223. [in Turkish].
Ilyas Okumuş – "Turkey's Sustainable Development Performance in Terms of Green Economy Indicators" Gaziantep September 2013 [in Turkish].
Jeremy Tamanini - GGEI, DUAL CITIZEN LLC, which Measures National Performance in a Green Economy, 2016, 5. Printing, p. 15-24 [in Turkish].
Ceyda Erden Özsoy - "Low Carbon Economy and Turkey's Carbon Footprint", HAK-IŞ International Journal of Labor and Society, 2015, p.199-215 [in Turkish].
Seda Canpolat Bicakci - An Assessment of the Instrumentality of Environmental Taxes, Journal of Gazi University Faculty of Economics and Administrative Sciences, Gazi Academy Young Social Scientists Symposium 2017 p.348-369 [in Turkish].
Shule Kamber "The place of green economy in public investments", Kadir Has University, 2014 p.41-68 [in Turkish].
Chunina A.E., Sinitsina D.G., Konopleva V.S. "Green" economy as a tool for solving environmental problems // The Scientific Heritage. 2019. No. 38-2 (38). pp. 10-13. [in Russian].
Theories and Problems of Political Studies. 2017, Vol. 6, Is. 6А
KOF Index of Globalization. URL: www.hse.ru/org/ hse/4432173/mathbase/databases/db_35 [in English].
New economy in the world and Azerbaijan - Green business movement
may 2018: URL: www.bizimyol.info/az/news/66667.html [in Russian].
Summary report for representatives of government structures:Towards a "green economy" the path to sustainable development and poverty eradication: UNEP 2011 [in Russian].
Ministry of Ecology and Natural Resources of Ukraine. URL: www.menr.gov.ua [in Ukranian].
State Statistics Service of Ukraine – Режим доступа: URL: www.ukrstat.gov.ua [in Ukranian].
UNEP, Green Economy Scoping Study Azerbaijan – 2012 United Nations Environment Programme: URL: www.unep.org/greeneconomy [in English].
Greening economies in the EU Eastern Partnership countries. URL: www.greeneconomies-eap.org [in English].
Indicators of Sustainable Development: Guidelines and Methodologies, October 2007, Third Edition [in English].
Global green economic index. URL: www.dualcitizeninc.com [in English].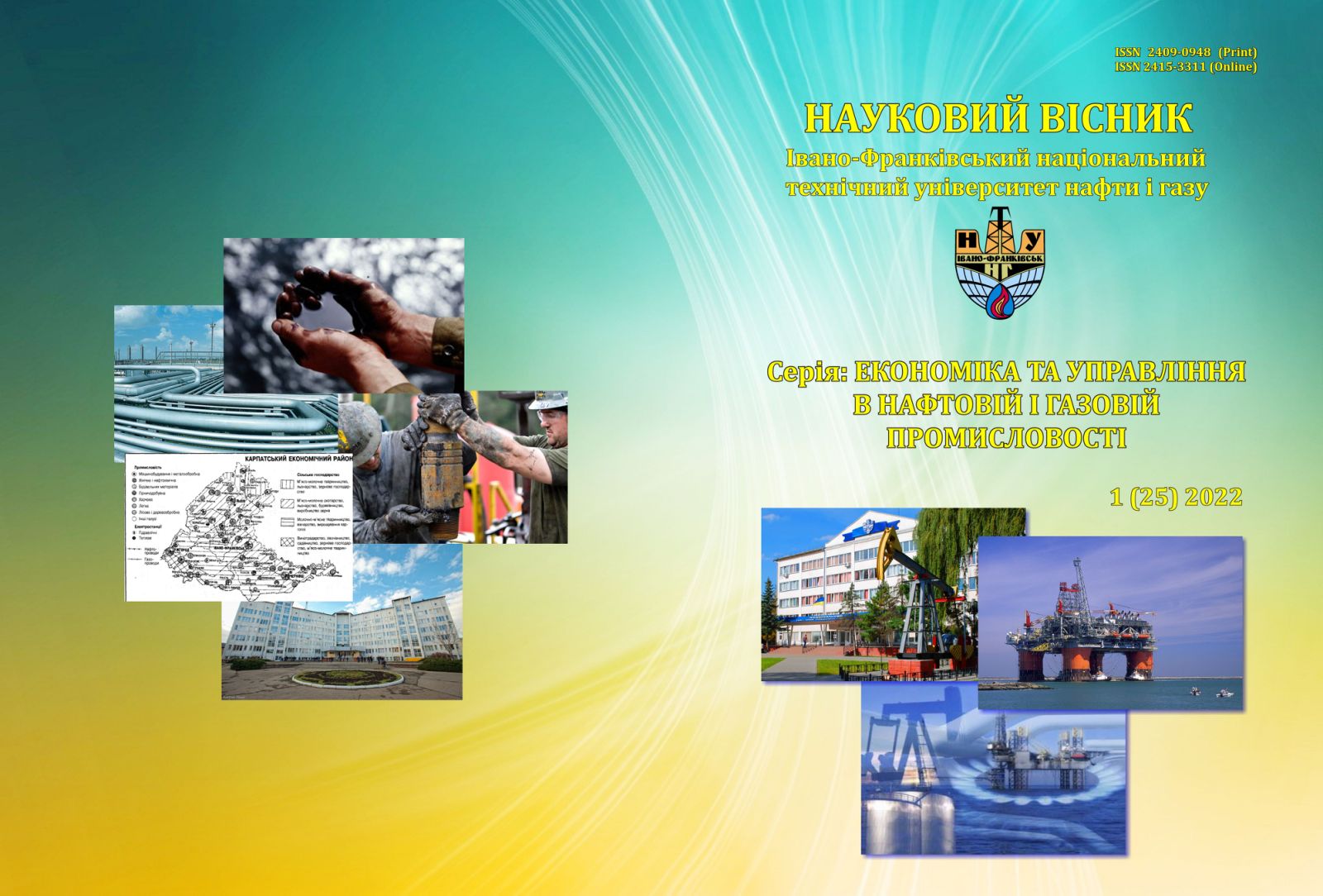 Downloads
How to Cite
Suleymanov, G. S., & Sheydai , T. A. (2022). ПЕРСПЕКТИВИ ВИКОРИСТАННЯ «ЗЕЛЕНОЇ ЕКОНОМІКИ» В АЗЕРБАЙДЖАНІ. Scientific Bulletin of Ivano-Frankivsk National Technical University of Oil and Gas (Series: Economics and Management in the Oil and Gas Industry), (1(25), 46–54. https://doi.org/10.31471/2409-0948-2022-1(25)-46-54
Section
ECONOMICS OF OIL AND GAS INDUSTRY
License
Copyright and Licensing Terms
Copyright Statement
The authors who publish in the journal accept the following conditions:
The authors retain the copyright and grant the journal the right of first publication, licensed with Creative CommonsCC BY-NC-SA , which permits other people to remix, transform, and build upon the material and use the material for non-commercial purposes, give appropriate credit and distribute the contributions under the same license as the original.
The authors can conclude additional agreements on the non-exclusive distribution of the journal's published version of the work (for example, publication of the work in electronic repositories) with an acknowledgment of its initial publication in this journal.
The authors can upload the published articles on the Internet (for example, in electronic repositories or on web-sites), as it will stimulate fruitful scholarly discussions and increase the citation rates of the published articles.