ОСОБЛИВОСТІ ОЦІНЮВАННЯ РИЗИКІВ МАГІСТРАЛЬНОГО ТРУБОПРОВІДНОГО ТРАНСПОРТУ ГАЗУ
Keywords:
трубопровідний транспорт, ризики, класифікація, оцінка, специфіка.
Abstract
Розглянуто природу та оцінено специфіку оцінювання ризиків, які
виникають в процесі транспортування газу магістральними трубопроводами.
References
1. Хохлов Н.В. Управление риском : Учеб.пособие для вузов.-М.:ЮНИТИ-
ДАНА,2001.-239с.
2. Kent Muhlbaer W. Pipeline Risk Managment Manual: Ideas, Techniques, and
Resources. – Oxford.- 2004.-422 с.
3. Кісь С. Я., Люта Н. В., Петренко В. П. Про інтелектуальний потенціал
нафтогазової галузі України як важливу складову її енергетичної безпеки //
Науковий вісник ІФНТУНГ. – 2006 р. - №1(13). – С. 93-99.
4. Вітлінський В.В. Аналіз, оцінка і моделювання економічного ризику. –
К.:ДЕМІУР. - 1996 – 212с.
5. Шерепа О. М. Теоретико-прикладні основи врахування ризиків при оцінці
ефективності реального інвестування //// автореферат к.е.н. Дніпропетровськ-
2008, с.21
6. Ван Хорн Дж. Основы управления финансами: пер. с англ.– М., Финансы и
статистика 1997 – 800 с.
7. Таран О. В. Фінансовий ризик-менеджмент економічних агентів Харків //
автореферат к.е.н – 2005 , с. 21
8. Турмачев Е.С. Методические проблемы количественного определения
рисков инвестиционных проектов// Аудит и финансовый анализ . – 1997 р. -
№3. – С.2-12.
9. Р.М.Говдяк, Я.М.Семчук, Л.Б.Чабанович, Б.І. Шелковський, Г.М.Кривенко
Енергоекологічна безпека нафтогазових об'єктів. Наукове видання. Івано-
Франківськ, Лілея-НВ 2007 – 554 с.
10. Р.М.Говдяк, Ю.М.Коснирєв. Кількісний аналіз аварійного ризику
газотранспортних об'єктів підвищеної небезпеки. – Львів.: Кальварія, 2007, -
158 с.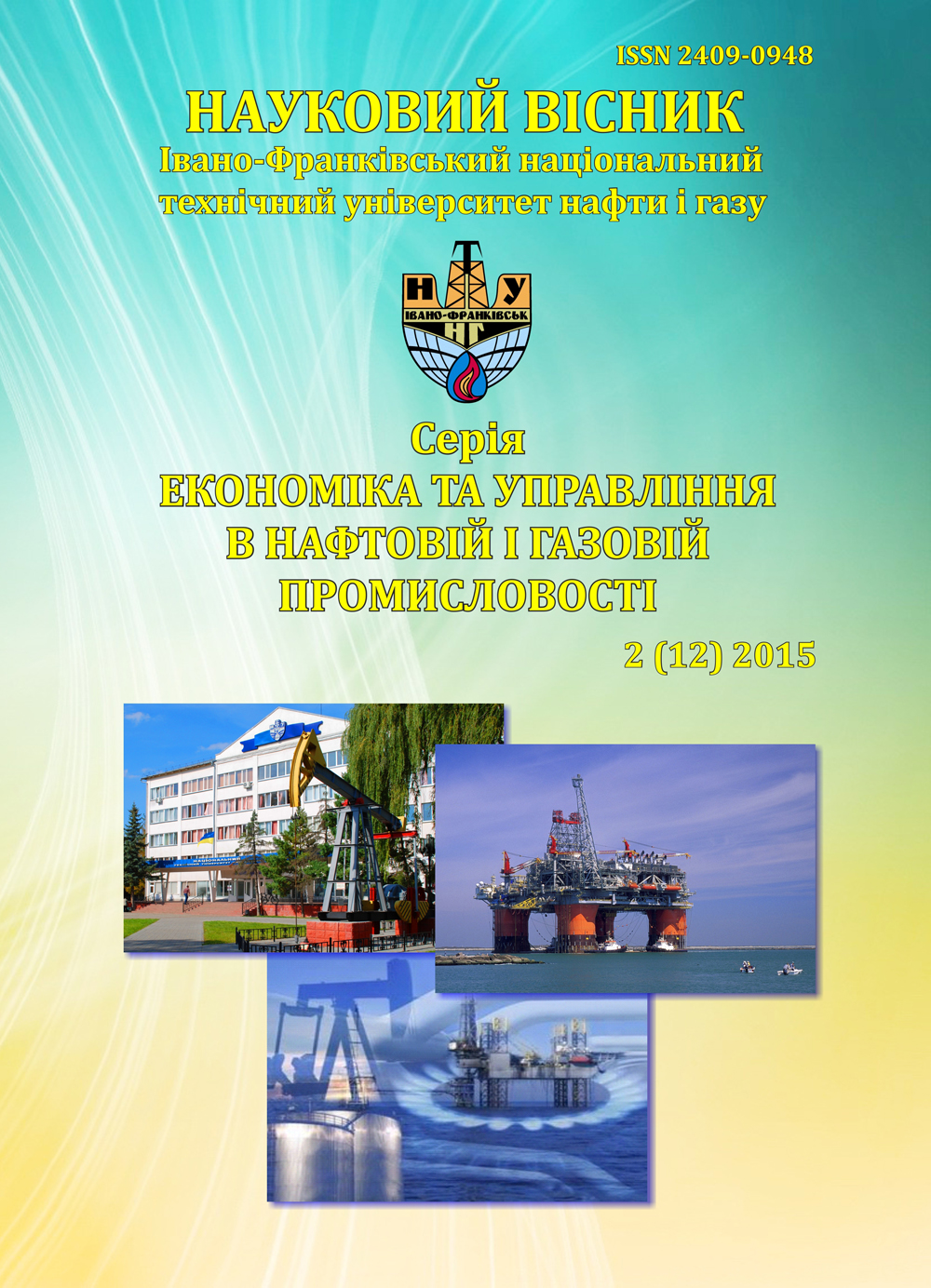 Downloads
How to Cite
Ревтюк, Є. А., & Сусак, О. М. (2018). ОСОБЛИВОСТІ ОЦІНЮВАННЯ РИЗИКІВ МАГІСТРАЛЬНОГО ТРУБОПРОВІДНОГО ТРАНСПОРТУ ГАЗУ. Scientific Bulletin of Ivano-Frankivsk National Technical University of Oil and Gas (Series: Economics and Management in the Oil and Gas Industry), 1(1). Retrieved from https://eung.nung.edu.ua/index.php/ecom/article/view/66
Section
MANAGEMENT IN OIL AND GAS INDUSTRY
License
Copyright and Licensing Terms
Copyright Statement
The authors who publish in the journal accept the following conditions:
The authors retain the copyright and grant the journal the right of first publication, licensed with Creative CommonsCC BY-NC-SA , which permits other people to remix, transform, and build upon the material and use the material for non-commercial purposes, give appropriate credit and distribute the contributions under the same license as the original.
The authors can conclude additional agreements on the non-exclusive distribution of the journal's published version of the work (for example, publication of the work in electronic repositories) with an acknowledgment of its initial publication in this journal.
The authors can upload the published articles on the Internet (for example, in electronic repositories or on web-sites), as it will stimulate fruitful scholarly discussions and increase the citation rates of the published articles.