ECONOMIC NATURE OF THE INVESTMENT PROCESS
U. Y. Andrusiv

Ivano-Frankivsk National Technical University oil and gas 76019, Ivano-Frankivsk, street. Carpathian, 15

http://orcid.org/0000-0003-1793-0936

H. V. Sydor

Chortkiv education and research Institute of Enterpreneurship and Business of Ternopil National Economic University
Keywords:
investment, investment resources, investment activity, investment process
Abstract
Purpose. Investigation of the essence of the investment process from the standpoint of existing approaches to economic science in order to formulate its own interpretation of the outlined definition.
Methodology of research. Theoretical and methodological basis of the research is the scientific works of domestic and foreign authors on the research of the essence of the investment process, Internet resources. In the process of research used general and special methods, in particular: monographic – in the implementation of the literary review of the problem under study; systematic and structural analysis – in substantiating different approaches and different points of view before interpreting the essence of the investment process as a complex economic category.
Findings. Generalized theoretical developments of domestic and foreign scientists-economists on the interpretation of the «investment process». On the basis of systematization of scientific approaches, the actual definition of the term «investment process» is proposed. The research of those scientists who consider the definition of «investment process» at micro and macro levels is considered. The signs that characterize the investment process are presented.    
Originality. The author's definition of the term, according to which the investment process should be considered as a never-ending in space and a continuous process of realization of investment decisions connected with attraction of funds, is proposed in order to achieve the goals and maximize the positive result for the participants and the investor.
 Practical value. The obtained research results are the basis for solving practical problems of the correct scientific approach to understanding this concept at the present stage.
References
Slovar ynostrannыkh slov / Sost. : M. V. Lekhyn, S. M. Kokshyna, F. N. Petrov y dr. – M. : Yzd-vo ynostrannыkh y nauchnыkh slovarei. – 1960. – 778 s.
Mochernyi S. V. Metodolohiia ekonomichnoho doslidzhennia : pidruch. [za red. S. V. Mochernoho] . – Lviv : Svit. – 2001. – 416 s.
Hubskyi B. V. Investytsiini protsesy v hlobalnomu seredovyshchi : pidruch. [za red. Hubskoho B. V.]. – K. : «Naukova dumka», 1998. – 391 s.
Peresada A. A. Upravlinnia investytsiinym protsesom : pidruch. [za red. A. A. Peresady]. – K. : Libra. – 2002. – 472 s.
Hytman L. Dzh. Osnovы ynvestyrovanyia : ucheb. [pod red. L. Dzh. Hytmana, M. D. Dzhonka]. per. s anhl. – M. : Delo. – 1999. – 1008 s.
Levchynskyi D. L. Sut ta ekonomichna pryroda investytsii ta investytsiinoho protsesu / D. L. Levchynskyi // Mekhanizm rehuliuvannia ekonomiky. – 2011. – № 2. – 138 s.
Shevchuk V. Ya. Osnovy investytsiinoi diialnosti : pidruch. [za red. V. Ya. Shevchuk, P. S. Rohozhyn]. – K. : Heneza, 1997. – 384 s.
Chernikova O. V. Investytsiinyi protses v ekonomitsi krainy yak vyznachalnyi chynnyk ekonomichnoho rozvytku / O. V. Chernikova // Ekonomika ta upravlinnia natsionalnym hospodarstvom. – 2010. – № 9 (111). – 86 s.
Sharp U. Ynvestytsyy : ucheb. [pod red. U. Sharpa, H. Aleksander, Dzh. Beily]. per. s anhl. – M. : YNFRA-M. – 1998. – 1028 s.
Fedorenko V. H. Investoznavstvo : pidruch. [za red. Fedorenko V. H.]. – 2-e vyd. – K. : MAUP, 2002. – 408 s.
Nortkott D. Pryniatye ynvestytsyonnыkh reshenyi : ucheb. [per. s anhl. pod red. A. N. Shokhyna]. – M. : Banky y byrzhy, YuNYTY, 1997. – 247 s.
Sydor H. V. Zaluchennia inozemnykh investytsii v ekonomiku Ukrainy / H. V. Sydor // Sotsialno-ekonomichni problemy suchasnosti : mater. Vseukr. nauk.-prakt. internet-konf., (m. Mariupol, 12 trav. 2017 r.). – Mariupol, 2017. – S. 263–266.
Sydor H. V. Teoretychni zasady investytsiinoho protsesu / H. V. Sydor, U. Ya. Andrusiv, H. I. Davydovska // Suchasni problemy obliku, analizu, audytu y opodatkuvannia subiektiv hospodarskoi diialnosti: teoretychni, praktychni ta osvitianski aspekty : mater. II Vseukr. nauk.-prakt. konf., (m. Dnipro, 29–30 berez. 2018 r.). – Dnipro, 2018. – S. 622–625.
Sydor H. V.Teoretychni aspekty investytsiinoi diialnosti: poniatiinyi aparat / H. V. Sydor, U. Ya. Andrusiv // Ekonomika i kultura Ukrainy v svitovykh hlobalizatsiinykh protsesakh: pozytsionuvannia i realii : mater. III Mizhnar. nauk.-prakt. konf., (m. Kyiv, 21–22 berez. 2018 r.). – Kyiv, 2018. – S. 109–111.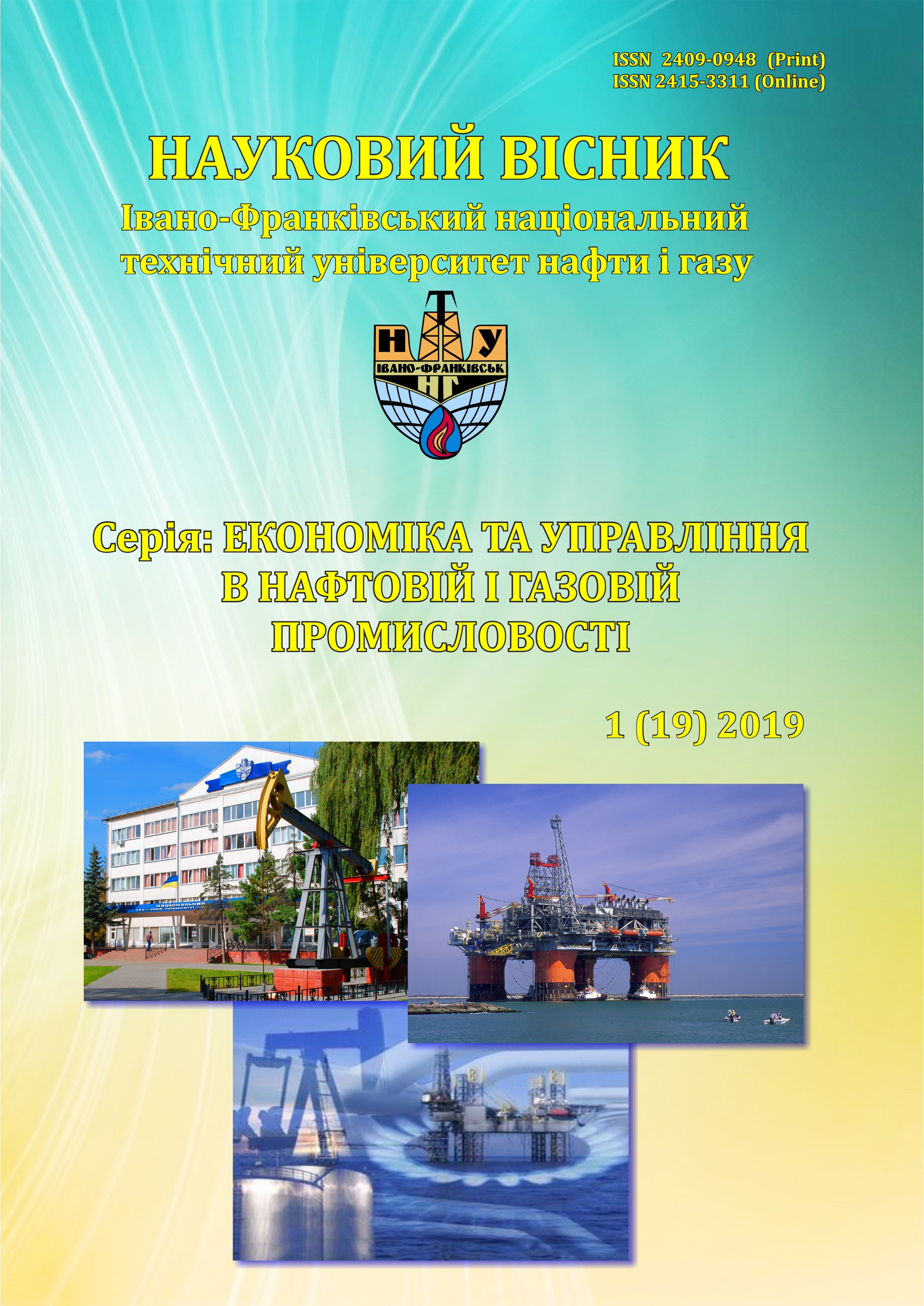 How to Cite
Andrusiv, U. Y., & Sydor, H. V. (2019). ECONOMIC NATURE OF THE INVESTMENT PROCESS. Scientific Bulletin of Ivano-Frankivsk National Technical University of Oil and Gas (Series: Economics and Management in the Oil and Gas Industry), (1(19), 68-74. https://doi.org/10.31471/2409-0948-2019-1(19)-68-74
Section
THEORETICAL PROBLEMS OF ECONOMICS AND MANAGEMENT
Copyright and Licensing Terms
Copyright Statement
The authors who publish in the journal accept the following conditions:
The authors retain the copyright and grant the journal the right of first publication, licensed with Creative CommonsCC BY-NC-SA , which permits other people to remix, transform, and build upon the material and use the material for non-commercial purposes, give appropriate credit and distribute the contributions under the same license as the original.
The authors can conclude additional agreements on the non-exclusive distribution of the journal's published version of the work (for example, publication of the work in electronic repositories) with an acknowledgment of its initial publication in this journal.
The authors can upload the published articles on the Internet (for example, in electronic repositories or on web-sites), as it will stimulate fruitful scholarly discussions and increase the citation rates of the published articles.