IMPROVING THE EFFICIENCY OF DIGITAL MARKETING OF ORGANIC PLANT PRODUCTS
Keywords:
Production, crop products, organic products, digital marketing, product promotion, sales, e-commerce, agricultural enterprises.
Abstract
The directions of increase of efficiency of use of digital marketing of organic crop production were investigated in the article. The urgency of the study is due to the need to reorient markets by increasing the share of products sold on national and local markets, optimizing logistics chains, disseminating information about domestic producers and brands, range of organic products via the Internet and other electronic networks.
It was noted that the global and domestic trends are the growth of e-commerce and sales of organic products using digital marketing tools. Adaptation to trade and logistics restrictions caused, in particular by quarantine restrictions, forces companies to increase marketing activity on the Internet, to use offline and online tools to promote goods and services.
Trends in the use of digital marketing tools by producers of organic crop products in Ukraine were analyzed. It was established that most often domestic companies use Internet sites, social networks, development and promotion of trademarks to promote organic products.
Improving the effectiveness of digital marketing of organic crop products is possible through the optimal combination of different tools that take into account the target audience, the specifics of the finished product, the marketing strategy of the enterprise. According to the results of factor analysis, the effectiveness of the promotion of organic crop products is influenced by the intensity of visits to the company's website, the frequency of orders in the CRM system and the completeness of their processing, the prevalence of social networks.
The advantages and disadvantages of digital marketing tools for promoting organic crop products, namely SEO, CRM-systems, social networks. The structural and logical model of digital marketing of organic crop products was proposed, consisting of three blocks: initial, promoting and activating. Each of them includes a set of tools that will increase sales at optimal costs. When conquering market niches and strengthening market positions, it is proposed to develop and promote a specialized site. This will ensure active communication through social networks. With the development of the organic direction of business, the gradual expansion of the range and increase market share is relevant to the use of SEO, CRM-systems, cloud computing. The application of the proposed structural and logical model of digital marketing of organic crop products will help increase sales, develop a strategy to promote products, optimize advertising costs, stimulate the promotion of environmentally friendly products.
References
Ovcharenko, A.S. (2018). Eksportooriyentovana model rozvytku organichnogo agroprodovol`chogo rynku Ukrayiny. Prychornomorski ekonomichni studiyi. № 26-1. S. 21-26. [in Ukrainian].
Fibl Statistics. URL: https://statistics.fibl.org/europe/operator-europe.html [in Ukrainian].
How to Promote Organic Food Store Online? URL: https://www.ppcchamp.in/services/how-to-promote-organic-food-store-online/
Chychkalo-Kondraczka, I.B., Novyczka, I.V. (2018). Svitovyj dosvid prosuvannya organichnoyi produkciyi. Efektyvna ekonomika. № 2. URL: http://www.economy.nayka.com.ua/pdf/2_2018/10.pdf [in Ukrainian].
Marchuk, O.O. (2018). Cyfrovyj marketyng yak innovacijnyj instrument upravlinnya. Ekonomika ta upravlinnya pidpryyemstvamy. № 17. S. 296-299 [in Ukrainian].
Marmul, L.O., Novak, N.P. (2016). Rozvytok organichnogo vyrobnycztva v Ukrayini na zasadax kooperaciyi. Ekonomika APK. № 9. S. 26-32. URL: file:///D:/Users/User/Downloads/E_apk_2016_9_6.pdf [in Ukrainian].
Saxno, S.A. Marketyng organ`cheskoj produkcyy. URL: http://ir.znau.edu.ua/bitstream/123456789/1070/1/O000rganic_20132_180-183.pdf [in Ukrainian].
Kupalova, G., Bazylevych, V., Goncharenko, N., Murovana, T., Grynchuk, J. Improvement of the Effectiveness of Organic Farming in Ukraine. Problems and Perspectives in Managements. № 3 (15). 2017. S. 97-103.
Kovalchuk, S.V., Zaburmexa Ye. M. (2017). Marketngovi cyfrovi texnologiyi u doslidzhenni spozhvachiv organichnoyi produkciyi. Markety`ngovi i cyfrovi texnologiyi. № 1. S. 34-51. URL.: http://nbuv.gov.ua/UJRN/mardigt_2017_1_1_7 [in Ukrainian].
Borovyk, T.V. Marketyngove zabezpechennya rynku organichnoyi produkciyi v umovax transformaciyi ekonomiky. URL: https://www.pdaa.edu.ua/sites/default/files/nppdaa/ 4.1/024.pdf [in Ukrainian].
Novyczka, I.V. (2019). Digital-marketyng yak texnologiya prosuvannya organichnoyi produkciyi. Visnk ekonomichnoyi nauky` Ukrayiny. № 2. S. 196-200. URL: http://dspace.nbuv.gov.ua/bitstream/handle/123456789/163991/33-Novytska.pdf?sequence=1 [in Ukrainian].
Xiaocui Wang. (2018). Analysis of Electronic Commerce Model of Organic Agricultural Products. Advances in Social Science, Education and Humanities Research. №. 309. S. 107-110. URL: file:///D:/Users/User/Downloads/55916237.pdf
E-commerce, customer relation management (CRM) and secure transactions. URL: Eurostat. https://ec.europa.eu/eurostat/tgm
E-commerce sales. URL: Eurostat. https://ec.europa.eu/eurostat/tgm
35 Digital Marketing Statistics That Will Convince You to Advertise Online. URL: https://www.lyfemarketing.com/blog/digital-marketing-statistics/
Digital Marketing Strategies for Organic Food Store. URL: http://www.ppcchamp.in/digital-marketing-strategies-organic-food-store/
Popadynets, I., Andrusiv, U., Shtohryn, M & Galtsova, O. (2020). The effect of cooperation between universities and stakeholders: Evidence from Ukraine.International Journal of Data and Network Science, 4(2), 199-212. doi: 10.5267/j.ijdns.2020.1.001.
V Xersone prezentuyut unykalnыj ynstrument po prodazhe organyky URL: http://agroportal.ua/ua/news/ukraina/v-khersone-prezentuyut-unikalnyi-instrument-po-prodazhe-organiki/ [in Rusia].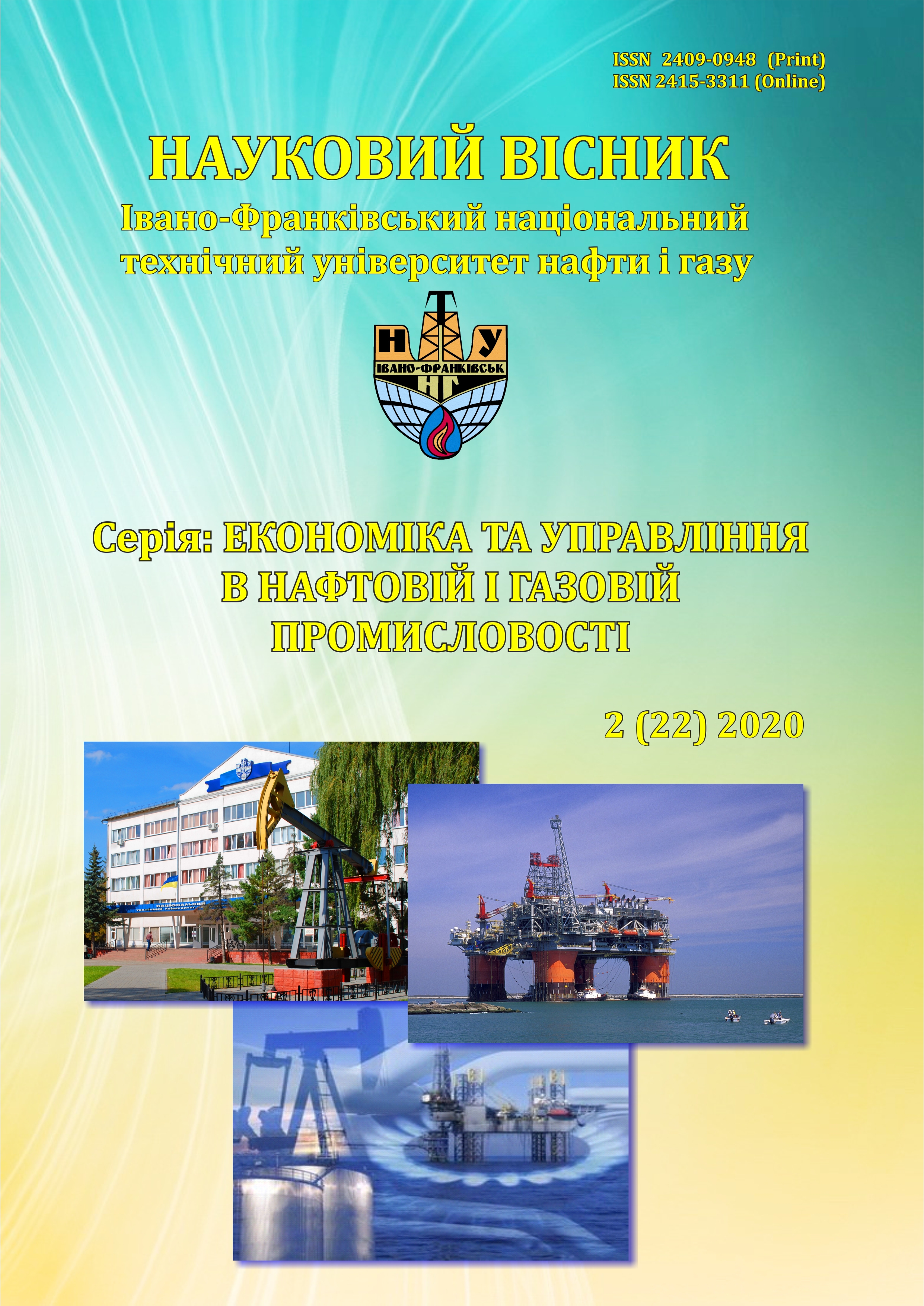 Downloads
How to Cite
Kupalova, H., & Goncharenkо N. (2021). IMPROVING THE EFFICIENCY OF DIGITAL MARKETING OF ORGANIC PLANT PRODUCTS. Scientific Bulletin of Ivano-Frankivsk National Technical University of Oil and Gas (Series: Economics and Management in the Oil and Gas Industry), (2(22), 139–150. https://doi.org/10.31471/2409-0948-2020-2(22)-139-150
Section
ECONOMICS AND MANAGEMENT OF THE OTHER ACTIVITIES
License
Copyright and Licensing Terms
Copyright Statement
The authors who publish in the journal accept the following conditions:
The authors retain the copyright and grant the journal the right of first publication, licensed with Creative CommonsCC BY-NC-SA , which permits other people to remix, transform, and build upon the material and use the material for non-commercial purposes, give appropriate credit and distribute the contributions under the same license as the original.
The authors can conclude additional agreements on the non-exclusive distribution of the journal's published version of the work (for example, publication of the work in electronic repositories) with an acknowledgment of its initial publication in this journal.
The authors can upload the published articles on the Internet (for example, in electronic repositories or on web-sites), as it will stimulate fruitful scholarly discussions and increase the citation rates of the published articles.