РЕАЛІЗАЦІЯ ПРОЄКТІВ ЛОКАЛЬНОЇ ЦИФРОВІЗАЦІЇ ЯК ОСНОВНИЙ НАПРЯМ АКТИВІЗАЦІЇ ЦИФРОВОЇ ТРАНСФОРМАЦІЇ ОСВІТНІХ ПРОЦЕСІВ, ПОСЛУГ ТА ПРОДУКТІВ
Keywords:
освітня послуга, освітній продукт, цифровізація, цифрова трансформація, цифрові технології.
Abstract
Стаття присвячена дослідженню проблем, пов'язаних з впровадженням та використанням цифрових технологій в освіті. Актуальність обраної тематика зумовлена, в першу чергу, необхідністю трансформацій у сфері вищої освіти відповідно до нових умов суспільного розвитку, для якого характерні високі темпи технологічних змін, переважаюча роль інтелектуального капіталу, наявність виробничих ресурсів у вигляді знань, умінь та навичок людини. Головним завданням закладів вищої освіти має стати підготовка фахівців, які здатні створювати та використовувати технології у різних галузях, критично мислити, гнучко адаптовуватись до змін, генерувати нові ідеї та формувати передумови особистого та суспільного добробуту. Досягнення таких результатів стане можливим за умови динамічних та актуальних змін у самій  системі вищої освіти. Насамперед, це стосується методів, підходів, технологій, інструментарію, за допомогою яких відбувається передача знань, удосконалюються уміння та навички, а також формується досвід людини.
З метою обґрунтування необхідності створення у сфері вищої освіти інноваційного середовища, сучасну основу якого формують цифрові технології,  в статті акцентовано увагу на характеристиках фахівця-інноватора. Їх формування неможливе без використання інструментів, які дозволяють максимально ефективно організувати та реалізувати освітній процес, надати якісні освітні послуги, сформувати пропозицію інноваційних освітніх продуктів.
В статті звернуто увагу на прийнятий у 2000 році Лісабонським самітом Ради Європи Меморандум про освіту впродовж життя (A Memorandum of Lifelong Learning). На основі проведеного аналізу принципів Меморандуму авторами доведено їх тісний зв'язок з сучасними трендами розвитку освіти, серед яких ключову роль відіграє цифровізація. Зокрема, реалізація задекларованого принципу "наближення освіти до місця проживання" в умовах пандемії Covid-19 є надзвичайно актуальним завданням, а його практичне втілення вимагає активізації дій, пов'язаних з цифровізацією освітніх послуг та продуктів.
Стаття містить огляд основних результатів у сфері цифровізації освіти в Україні  та проблем, які потребують вирішення. Звернуто увагу на те, що на рівні формування концепцій та рекомендацій перспективи цифрової трансформації вищої освіти представлені належним чином. Проте, для вітчизняних ЗВО актуальним залишається питання практичного впровадження інструментів цифровізації, а також їх фінансового забезпечення.
З метою пошуку практичних рішень у сфері цифровізації освітніх процесів, послуг та продуктів авторами статті запропоновано алгоритм дій та описову модель, які дозволять ЗВО активізувати цифрові трансформації шляхом налагодження співпраці у форматі партнерства та реалізовувати проєкти локальної цифровізації. Ефективність та перспективність такого підходу обґрунтовано на прикладі Івано-Франківського національного технічного університету нафти газу (ІФНТУНГ), де у 2020 році розпочато реалізацію проєкту локальної цифрової трансформації.
References
Yatsiuk O. S. Pereoriientatsiia osvity na pidhotovku innovatoriv yak mozhlyva reaktsiia suspilstva na zahrozu tekhnolohichnoi synhuliarnosti [Proceedings of the XI International Scientific and Practical Conference "European Vector of Economic Modernization: Creativity, Transparency and Sustainable Development"]. Kharkiv, KhNUBA, 2019. S. 132-134.
Kraus K. M., Kraus N. M. Training of innovators with the participation of institutes of innovative development under the influence of collaborative processes. Quality of higher education: current trends and prospects for the development of educational activities of higher education: materials of the XLI International Scientific and Methodological Conference. Poltava, PUET, 2016. S. 157-159.
Yatsiuk O. S. Biznes yak tvorchist: rekomendatsii shchodo zakladennia ekonomichnykh osnov efektyvnoi ukrainskoi derzhavy vid Petra Yatsyka [Business as creativity: recommendations for laying the economic foundations of an effective Ukrainian state from Peter Jacyk]. Derzhava u teorii i praktytsi ukrainskoho natsionalizmu: materialy VI Vseukrainskoi naukovoi konferentsii z mizhnarodnoiu uchastiu [The state in the theory and practice of Ukrainian nationalism: materials of the VI All-Ukrainian scientific conference with international participation]. Ivano-Frankivsk, Misto NV, 2015. S. 533-538.
A Memorandum on Lifelong Learning. Commission of the European communities. Available at: http://arhiv.acs.si/dokumenti/Memorandum_on_Lifelong_Learning.pdf.
Tsyfrovizatsiia: perevahy ta shliakhy podolannia vyklykiv [Digitization: benefits and ways to overcome challenges]. Available at: https://razumkov.org.ua/statti/tsyfrovizatsiia-perevagy-ta-shliakhy-podolannia-vyklykiv
Dyrektorat tsyfrovoi transformatsii [Directorate for Digital Transformation]. Available at: https://mon.gov.ua/ua/ministerstvo/pro-ministerstvo/direktorati/direktorat-doshkilnoyi-ta-shkilnoyi-osviti
Kontseptsiia tsyfrovoi transformatsii osvity i nauky: MON zaproshuie do hromadskoho obhovorennia [The concept of digital transformation of education and science: MES invites to public discussion]. Available at: https://mon.gov.ua/ua/news/koncepciya-cifrovoyi-transformaciyi-osviti-i-nauki-mon-zaproshuye-do-gromadskogo-obgovorennya
Osvita. Stratehiia Ukrainy 2030. Available at: https://www.slideshare.net/UIFuture/2030-148758034
Svitovyi bank zatverdyv proekt dlia Ukrainy shchodo pokrashchennia yakosti vyshchoi osvity [The World Bank has approved a project for Ukraine to improve the quality of higher education]. Available at: https://mon.gov.ua/ua/news/svitovij-bank-zatverdiv-proyekt-dlya-ukrayini-shodo-pokrashennya-yakosti-vishoyi-osviti
Shevchenko L. S. Tsyfrovizatsiia vyshchoi osvity u stratehii rozvytku Kharkivskoho rehionu [Digitization of higher education in the development strategy of the Kharkiv region]. Stratehii rozvytku Kharkivskoi oblasti na period 2021–2027 rokiv: zbirnyk naukovykh prats [Strategies of development of the Kharkiv region for the period of 2021–2027: collection of scientific works]. Kharkiv, NDI PZIR NAPrN Ukrainy, 2020. S. 94-98.
Mykhailo Fedorov: Vpershe v Ukraini tsyfrovi navychky staly priorytetom derzhavy [For the first time in Ukraine, digital skills have become a priority of the state]. Available at: https://www.kmu.gov.ua/news/mihajlo-fedorov-vpershe-v-ukrayini-cifrovi-navichki-stali-prioritetom-derzhavi
Zakon Ukrainy "Pro osvitu" [Law of Ukraine "On Education"]. Available at: https://zakon.rada.gov.ua/laws/show/2145-19#Text
Kis S., Malynovska G., Kalambet Y., Yatsiuk O. A mathematical and testing tool for personal humancapital research assessment. Management Science Letters, 2020. Vol. 10, Iss. 14. pp. 3291-3298. doi: 10.5267/j.msl.2020.6.009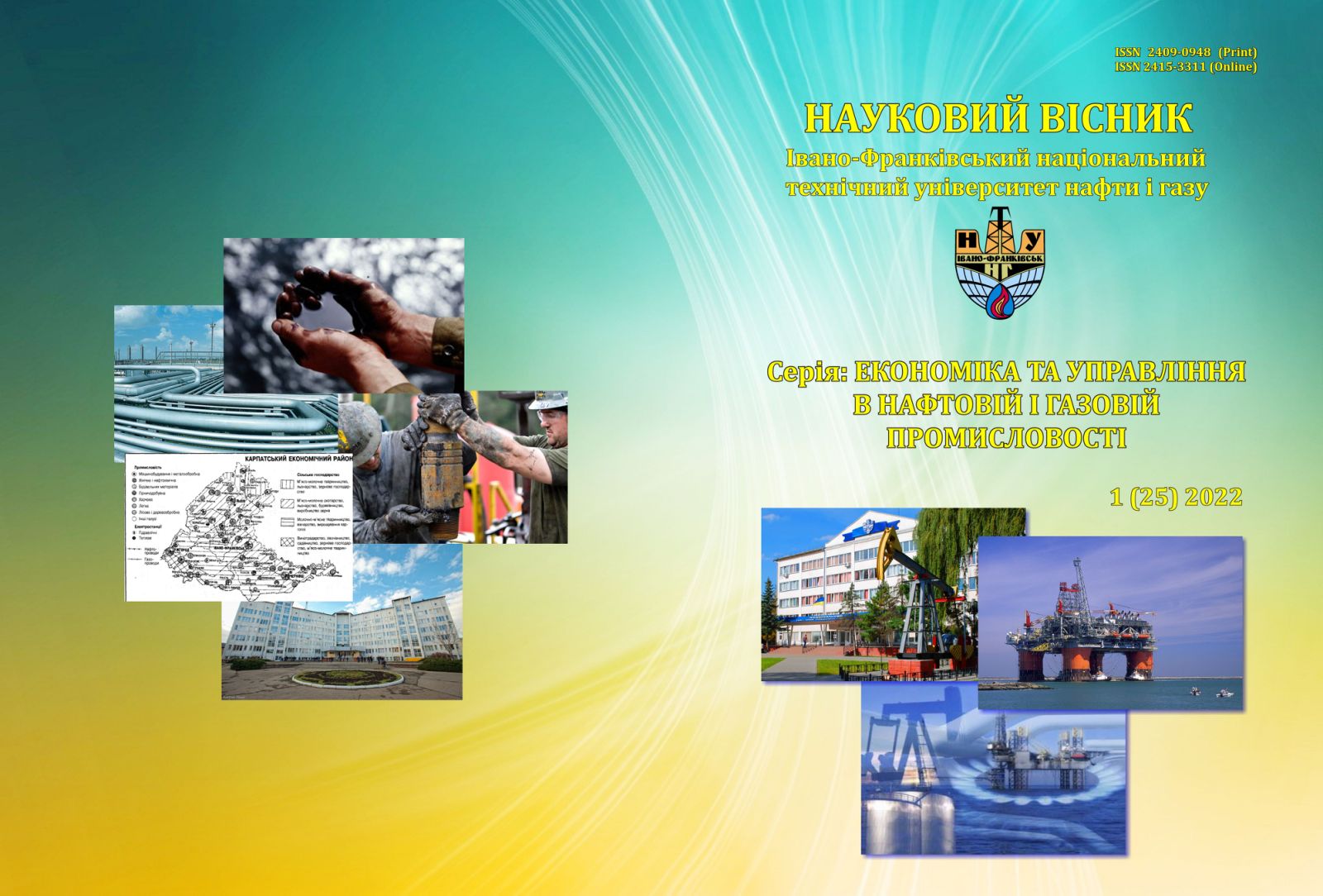 Downloads
How to Cite
Malynovska, G., Kis , S. ., Kis , H. ., & Danyleichuk, R. . (2022). РЕАЛІЗАЦІЯ ПРОЄКТІВ ЛОКАЛЬНОЇ ЦИФРОВІЗАЦІЇ ЯК ОСНОВНИЙ НАПРЯМ АКТИВІЗАЦІЇ ЦИФРОВОЇ ТРАНСФОРМАЦІЇ ОСВІТНІХ ПРОЦЕСІВ, ПОСЛУГ ТА ПРОДУКТІВ. Scientific Bulletin of Ivano-Frankivsk National Technical University of Oil and Gas (Series: Economics and Management in the Oil and Gas Industry), (1(25), 89–99. https://doi.org/10.31471/2409-0948-2022-1(25)-89-99
Section
THEORETICAL PROBLEMS OF ECONOMICS AND MANAGEMENT
License
Copyright and Licensing Terms
Copyright Statement
The authors who publish in the journal accept the following conditions:
The authors retain the copyright and grant the journal the right of first publication, licensed with Creative CommonsCC BY-NC-SA , which permits other people to remix, transform, and build upon the material and use the material for non-commercial purposes, give appropriate credit and distribute the contributions under the same license as the original.
The authors can conclude additional agreements on the non-exclusive distribution of the journal's published version of the work (for example, publication of the work in electronic repositories) with an acknowledgment of its initial publication in this journal.
The authors can upload the published articles on the Internet (for example, in electronic repositories or on web-sites), as it will stimulate fruitful scholarly discussions and increase the citation rates of the published articles.