GREEN LOGISTICS IN LIFE CYCLE MANAGEMENT: THE THEORETICAL ASPECT
Keywords:
green llogistics, supply chain management, life cycle management
Abstract
Green Logistic, Life Cycle Management and corporate social responsibility concepts are playing increasingly significant roles in reaching sustainable outcomes on the economic and social and ecological sides. Since governments and manufacturer globe are not able to curb the economic and ecological alarming consequences for the 21 centuries as inflation and pollution. There is a need to understand that Green Logistic and Life Cycle Management must be emphasized by all element of supply chain management, starting from supplier of raw materials, passing through various stakeholders and ending with customers, all must share their responsibilities. Through a descriptive analysis for the secondary data and literature review, the papers concluded that sustainability could be achieved just if all element of supply chain management interact efficiently and share balanced responsibilities.
The world today is facing economic, environmental and social challenges, caused by globalization. This has led to increased consumption, and thus increased production and flows of goods and commodities around the world. Industrial and technological revolutions have exacerbated environmental problems such as global warming and greenhouse gases that are beyond the control of governments to curb. The international community, represented by the United Nations Council and other international organizations, is working to take measures to confront these challenges. The academic community is also developing models and mechanisms to improve green logistics operations in the industrial and service sectors through design, planning, implementation, and arbitration models.
The article presents the analysis of the theoretical foundations of life cycle management; the analysis of the latest publications in corporate social responsibility and life cycle management was carried out, the role of green logistics in ensuring the sustainable development of the enterprise was investigated. Based on the research results, a sustainable value chain model is presented by combining elements with green logistics tools.
References
Seroka-Stolka, O. (2014). The development of green logistics for implementation sustainable development strategy in companies. 1st International Conference Green Cities 2014 – Green Logistics for Greener Cities (pp. 302-309).
Mesjasz-Lech, A. (2011). Efektywność ekonomiczna i sprawność ekologiczna logistyki zwrotnej. (pp. 43-46). Czestochowa: Technical University of Czestochowa.
Lee, S.-Y., & Klassen, R. (2008). Drivers and Enablers That Foster Environmental Management Capabilities in Small- and Medium Sized Suppliers in Supply Chains. Production and Operations Management Society, 573-586.
Sbihi, A., & Eglese, R. (2009). Combinatorial optimization and Green Logistics. Annals of Operations Research, 175(1), 159-175.
Lyon, T., & Maxwell, J. (2008). Corporate Social Responsibility and the Environment: A Theoretical Perspective. UN Department. Report of the World Commission on Environment and Development: Our Common Future.
Wong, C., & HungLia, K. (2012). Green logistics management and performance: Some empirical evidence from Chinese manufacturing exporters. Omega, 40(3), 267-282. doi:https://doi.org/10.1016/j.omega.2011.07.002
Rodrigue, J., Slack, B., & Comtois, C. (2017). Green logistics In Handbook of logistics and supply-chain management. Emerald Group Publishing Limited.
McKinnon, A., Browne, M., Whiteing, A., & Piecyk, M. (2015). Green logistics: Improving the environmental sustainability of logistics. Kogan Page Publishers.
Tissayakorn, K., & Akagi, F. (2012). Green logistics management and performance for Thailand's logistic enterprises. Physics Procedia, 24, 900-905. doi:https://doi.org/10.1109/ICIT.2014.6895018
Rizou, M., Galanakis, I., Aldawoud, T., & Galanakis, C. (2020). Safety of foods, food supply chain and environment within the COVID-19 pandemic. Trends in food science & technology, 102, 293-299.
Heise, S., Karahan, F., & Şahin, A. (2022). The Missing Inflation Puzzle: The Role of the Wage‐Price Pass‐Through. Journal of Money, Credit and Banking, 54(1), 7-51.
Bianchi, G., Tessitore,, S., Iraldo, , F., & Testa,, F. (2021). How to embed environmental sustainability: the role of dynamic capabilities and managerial approaches in a life cycle management perspective. Wiley Online Library, 31(1). doi:https://doi.org/10.1002/bse.2889
Remmen, A., Jensen, A., & Frydendal, J. (2007). Life Cycle Management. UNEP and Danish Standards.
Zhang, G., & Zhaob, Z. (2012). Green Packaging Management of Logistics Enterprises. Physics Procedia, 24(B), 900-905. doi:https://doi.org/10.1016/j.phpro.2012.02.135
Bowen, H. (1953). Social Responsibilities of the Businessman. Iowa: University of Iowa Press. Business & Economics .
Friedman, M. (1970, September 13). The Social Responsibility of Business Is to Increase Its Profits. The New York Times Magazine.
Carroll, A. (1979). A three-dimensional conceptual model of corporate performance. Academy of Journal Management Review, 4(4), 479-505.
Freeman, R., & Dmytriyev, S. (2017). Corporate Social Responsibility and Stakeholder Theory: Learning From Each Other. Symphonya Emerging Issues in Management, 7-15. doi:http://dx.doi.org/10.4468/2017.1.02freeman.dmytriyev
Elkington, J. (1998). Cannibals with Forks: The Triple Bottom Line of 21st Century Business. New Society Publishers.
Brin, P., Prokhorenko, O., Nehme, M. & Trabulsi, H. (2020). Strategic contribution of a business process to company's performance. Journal of Information Technology Management, 12(3), pp.82-99. https://dx.doi.org/10.22059/jitm.2020.76296
Brin, P., Lombardi, R., Nehme, M. N., & Tiscini, R. (2022). Corporate social responsibility, competitiveness and sustainability in emerging economies: the case of Ukraine. International Journal of Management and Decision Making, 21(4), 379-401. https://doi.org/10.1504/IJMDM.2022.125936
Geng, R., Aktas, E., & Mansouri, F. (2017). The relationship between green supply chain management and performance: A meta-analysis of empirical evidences in Asian emerging economies. International Journal of Production Economics, 183(A), 245-258.
Vila, C., Nebot, J., Albinana, J., & Hernadez, G. (2015). An Approach to Sustainable Product Lifecycle Management (Green PLM). Procedia Engineering, 132, 585-592.
Brin, P., Nehme, M., & Polančič, G. (2020). Corporate social responsibility as an instrument of increasing country competitiveness. Torun International Studies, 1 (13), 131-150. https://doi.org/10.12775/TIS.2020.010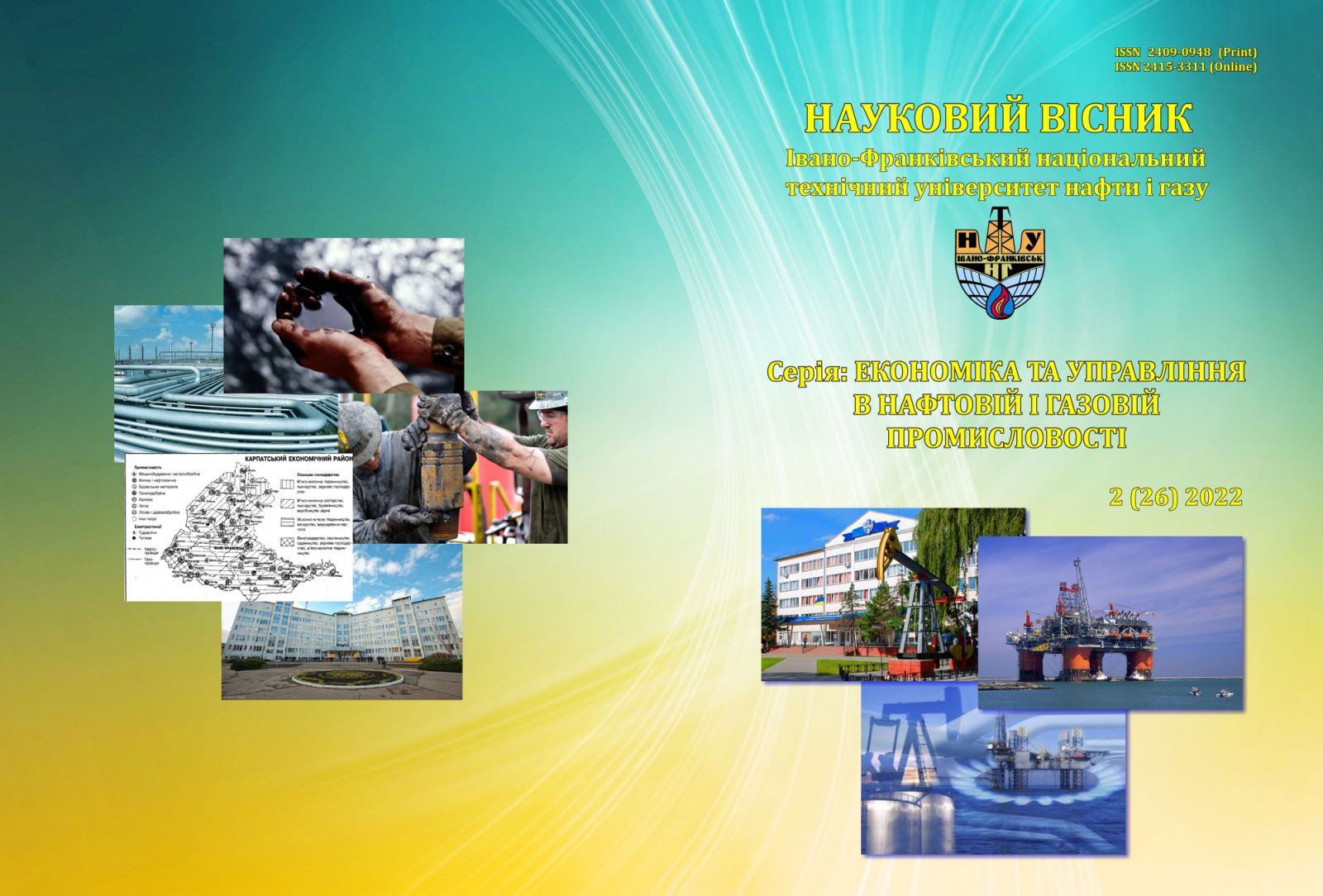 Downloads
How to Cite
Nehme, M., Brin, P., & Iskandarani, L. (2022). GREEN LOGISTICS IN LIFE CYCLE MANAGEMENT: THE THEORETICAL ASPECT. Scientific Bulletin of Ivano-Frankivsk National Technical University of Oil and Gas (Series: Economics and Management in the Oil and Gas Industry), (2(26), 36–42. https://doi.org/10.31471/2409-0948-2022-2(26)-36-42
Section
ECONOMICS OF OIL AND GAS INDUSTRY
License
Copyright and Licensing Terms
Copyright Statement
The authors who publish in the journal accept the following conditions:
The authors retain the copyright and grant the journal the right of first publication, licensed with Creative CommonsCC BY-NC-SA , which permits other people to remix, transform, and build upon the material and use the material for non-commercial purposes, give appropriate credit and distribute the contributions under the same license as the original.
The authors can conclude additional agreements on the non-exclusive distribution of the journal's published version of the work (for example, publication of the work in electronic repositories) with an acknowledgment of its initial publication in this journal.
The authors can upload the published articles on the Internet (for example, in electronic repositories or on web-sites), as it will stimulate fruitful scholarly discussions and increase the citation rates of the published articles.