НАПРЯМИ ПІДВИЩЕННЯ СОЦІАЛЬНОЇ СТІЙКОСТІ ПЕРСОНАЛУ НА ПІДПРИЄМСТВАХ НАФТОГАЗОВОГО КОМПЛЕКСУ
Keywords:
enterprise, stability, oil and gas complex, management, personnel service.
Abstract
The article substantiates the directions of increase of social stability of personnel at the
domestic oil and gas enterprises. The components that determine its essence are revealed. It is found that
effective economic activity of the enterprise in market conditions requires organization of management on
a conceptually new basis.
References
1. Білуха М.Т. Методологія наукових досліджень: підручник / М.Т. Білуха. – К. : АБУ, 2002. –
480 с.
2 Вітлінський В.В. Моделювання економіки : навч. посіб. / В.В. Вітлінський. – К. : КНЕУ,
2003. – 408 с.
3. Соломанидина Т.О. Организационная культура в таблицах, тестах, кейсах и схемах : уч.-
метод. материалы / Т.О. Соломанидина. – М. : ИНФРА. 2007. – 395 с.
4 Ардальянова Е. Опасные кадры [Електронний ресурс]. – Режим доступу :
http://www.zrpress.ru/2004/006/b018. htm
5. Клебанова Т. С. Моделі оцінки ефективності санації підприємств на основі нечітких
множин / Т.С. Клебанова, О. В. Панасенко // Актуальні проблеми економіки. – 2007. – №7. –
С.158–165.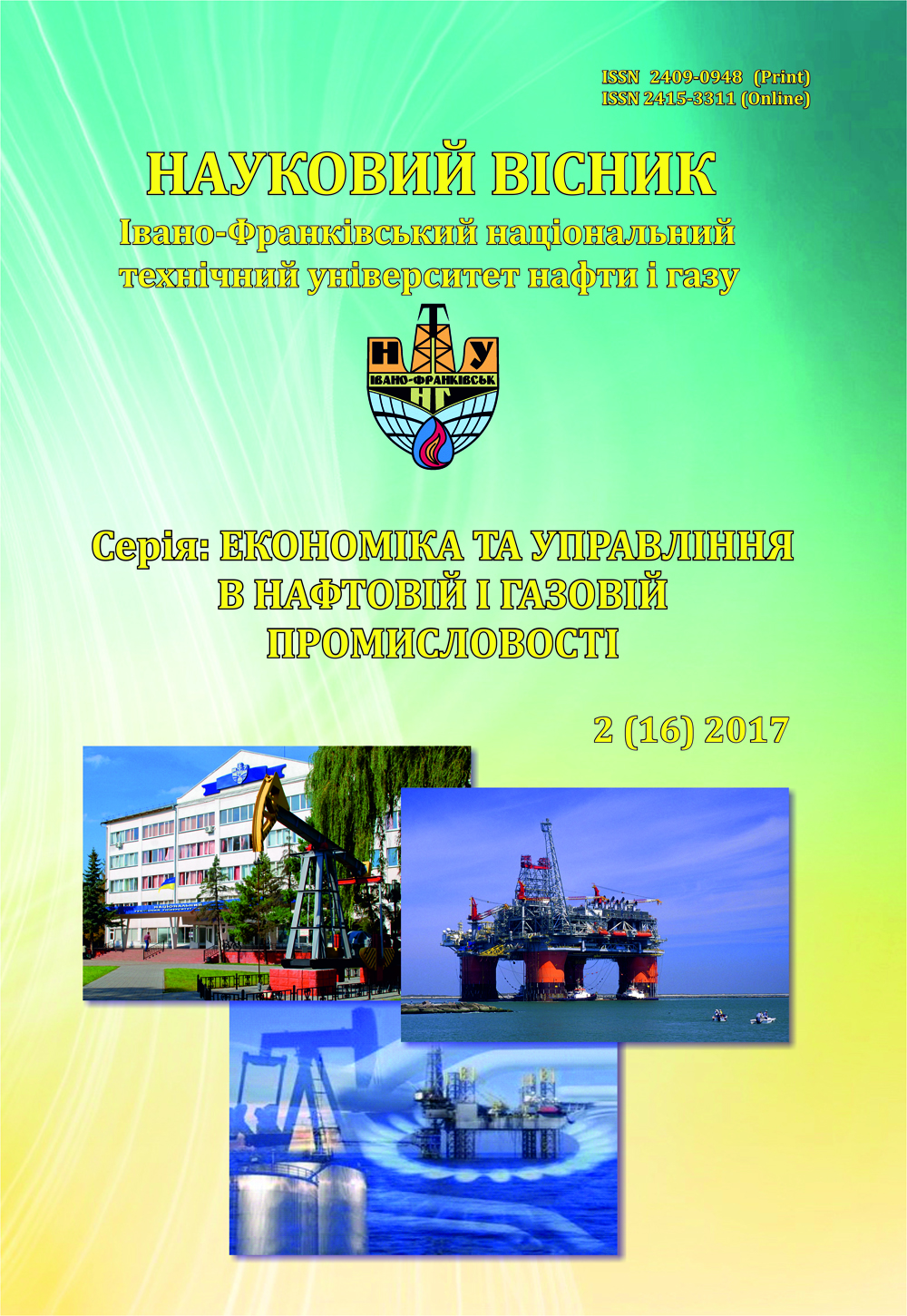 How to Cite
Зелінська, Г. (2018). НАПРЯМИ ПІДВИЩЕННЯ СОЦІАЛЬНОЇ СТІЙКОСТІ ПЕРСОНАЛУ НА ПІДПРИЄМСТВАХ НАФТОГАЗОВОГО КОМПЛЕКСУ. Scientific Bulletin of Ivano-Frankivsk National Technical University of Oil and Gas (Series: Economics and Management in the Oil and Gas Industry), 2(16), 11-13. Retrieved from http://eung.nung.edu.ua/index.php/ecom/article/view/13
Section
MANAGEMENT IN OIL AND GAS INDUSTRY
Copyright and Licensing Terms
Copyright Statement
The authors who publish in the journal accept the following conditions:
The authors retain the copyright and grant the journal the right of first publication, licensed with Creative CommonsCC BY-NC-SA , which permits other people to remix, transform, and build upon the material and use the material for non-commercial purposes, give appropriate credit and distribute the contributions under the same license as the original.
The authors can conclude additional agreements on the non-exclusive distribution of the journal's published version of the work (for example, publication of the work in electronic repositories) with an acknowledgment of its initial publication in this journal.
The authors can upload the published articles on the Internet (for example, in electronic repositories or on web-sites), as it will stimulate fruitful scholarly discussions and increase the citation rates of the published articles.