ІДЕНТИФІКАЦІЯ ДЖЕРЕЛ КАПІТАЛУ БРЕНДУ РОЗДРІБНОГО РИНКУ НАФТОПРОДУКТІВ НА ОСНОВІ «ДНК»-ПІДХОДУ
О. Я. Малинка

А. О. Устенко
Keywords:
brand, brand equity,
Abstract
A comprehensive analysis of the sources of capital formation of the brand of the retail
market of light oil products on the basis of a "DNA" approach has been carried out. As a result, a number
of tools and methods have been identified with which it is possible to evaluate the effect of individual
components of brand identity (associations, image, individuality, location, perceived quality, value and
core) on a particular market segment.
To evaluate the effect of individual components of the OKKO brand, it is suggested to use such tools
and methods: survey and observation, expert assessments, arbitrary associations, detailed questions,
scales, brand perception mapping, brand mapping, subjective brand classification analysis, visual
perception mapping goods, EquiTrend, the construction of maps for determining the nominal value of the
brand and the matrix for the deployment of quality functions, testing the perception and recognition of
brand attributes, testing ease of remembering brand loyalty to the brand testing, testing the possibility of
replacing the brand. After all, it is important for the company to assess the consumer perception of the
brand (to analyze the impact of its identity components on consumer impressions of contact with the
product) in order to achieve the maximum coincidence of the planned and perceived brand content. To do
this, it is needed to have a full understanding of how consumers buy and use the goods, and most
importantly - about what they know, how think and feel.
Keywords: brand, brand equity, "DNA"-approach to brand building, oil retail market.
References
1. Малинка О.Я. "ДНК" бренду як система збереження, відтворення і передачіінформації до
споживача та її концептуальна модель / О. Я. Малинка // Маркетинг в Україні. – 2006. – № 1 (35). –
С. 34 – 38.
2. Келлер К. Л. Стратегический бренд-менеджмент: создание, оценка и управление марочным
капиталом / Келлер К.Л. [2-е изд.] ;пер. с англ. – М. : Издательский дом "Вильямс", 2005. – 704 с.
3. Kotler Р. Marketing Management-Analysis, Planning, Implementation, and Control. 8th ed. /
Kotler Р. – Upper Saddle River, NJ: Prentice Hall, 1994.
4. Домнин В. Н. Брендинг: новые технологии в России / Домнин В. Н. – [2-е изд.] – СПб. :
Питер, 2004. – 381 с.
5. Эллвуд А. Основы брендинга: 100 приемов повышения ценности товарной марки / Эллвуд
А. – М. : ФАИР-ПРЕСС, 2002. – 336 с.
6. Аакер Д. Создание сильных брендов / Аакер Д. – М. : Издательский дом Гребенникова,
2003. – 440 с.
7. FournierS.M. Consumers and Their Brands: Developing Relationship Theory in Consumer
Research / S.M. Fournier// Journal of Consumer Research. – 1998. – March. – P. 343 – 373.
8. FournierS.M. Dimensioning Brand Relationships Using Brand Relationship Quality/
S.M.Fournier. – Association for Consumer Research: Salt Lake City, UT, October 2000. – Р. 15 – 18.
9. FournierS.M. Preventing the Premature Death of Relationship Marketing / S.M.Fournier, S.
Dobscha, S. Mick. // Harvard Business Review. – 1999. – January–February. – P. 42 – 51.
10. FournierS.M. Reviving Brand Loyalty: A Reconceptualization Within the Framework of
Consumer – Brand Relationships / S.M.Fournier, J.L. Yao. // International Journal of Research in
Marketing. –№14 (1997). – P. 451 – 472.
11. Брендинг в управлении маркетинговой активностью / [Моисеева Н. К., Рюмин М. Ю.,
Слушаенко М. В., Будник А. В.] ; под ред. проф. Н. К. Моисеевой. – М. : Омега-Л, 2003. – 410 с.
12. Rokeach M. The Nature of Human Values / M. Rokeach. – N.Y. : Free Press, 1975. – P. 128.
13. Srull T.K. Methodological Techniques for the Study of Person Memory and Social Cognition, in
Robert S.Wyer, Thomas K. Srull (eds.) / Srull T. K. – Handbook of Social Cognition. – Hillsdale, NJ:
Lawrence Erlbaum, 1984. – Vol.2. – P. 1 – 72.
14. Aaker D.A. Managing Brand Equity. Capitalizing on the Value of a Brand Name / Aaker D.A. –
The Free Press: New York, London, Toronto, Sydney, 1991. – 299 p.
15. Петренко В.Ф. Основы психосемантики: учеб. пособие / Петренко В.Ф. – Москва : Изд-во
МГУ, 1997. – 398 с.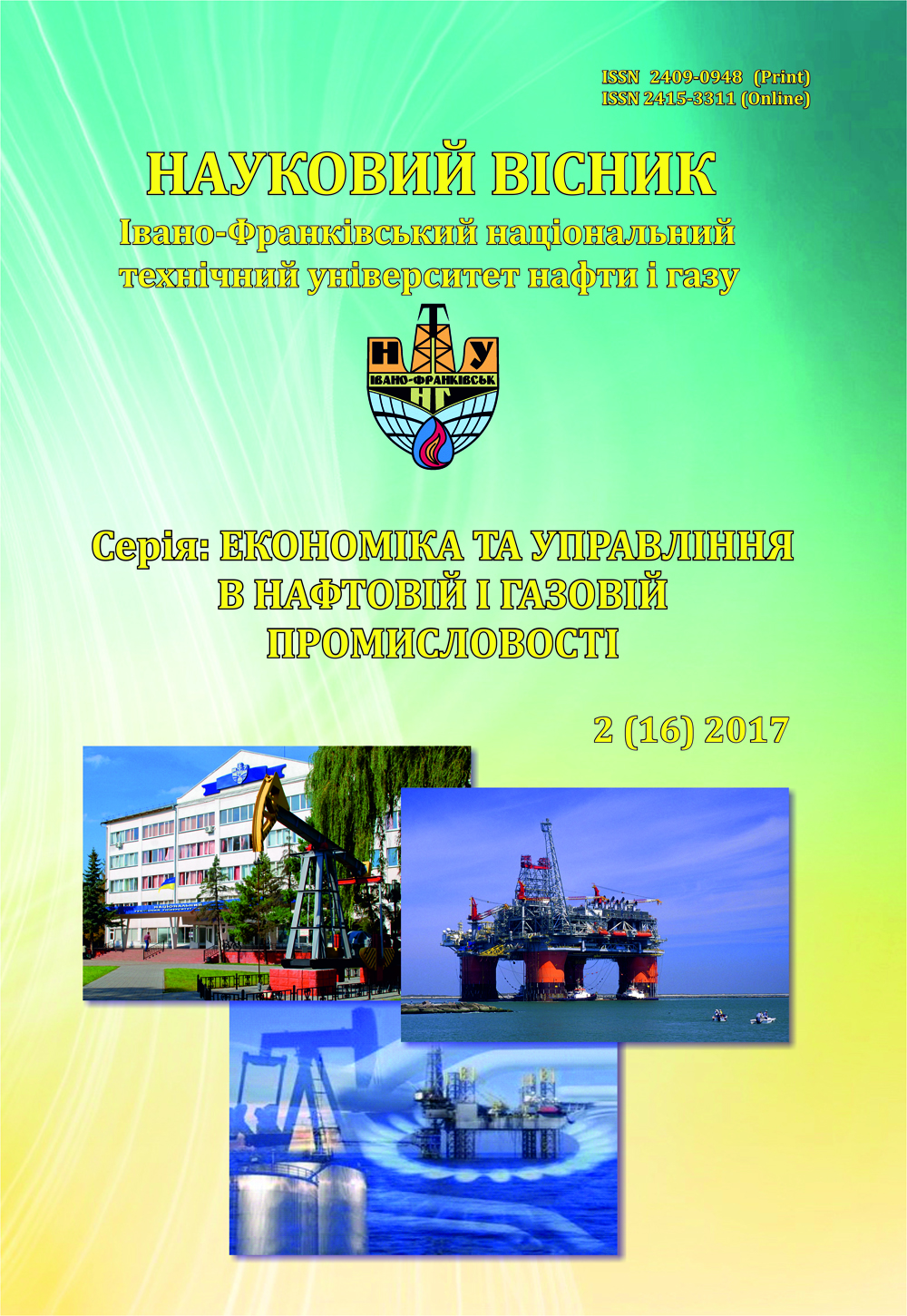 How to Cite
Малинка, О., & Устенко, А. (2018). ІДЕНТИФІКАЦІЯ ДЖЕРЕЛ КАПІТАЛУ БРЕНДУ РОЗДРІБНОГО РИНКУ НАФТОПРОДУКТІВ НА ОСНОВІ «ДНК»-ПІДХОДУ. Scientific Bulletin Of Ivano-Frankivsk National Technical University of Oil and Gas (edition Topic: «Economy and Management of Oil and Gas Industry»), 2(16), 14-29. Retrieved from http://eung.nung.edu.ua/index.php/ecom/article/view/14
Section
MANAGEMENT IN OIL AND GAS INDUSTRY