THE ABILITY OF HEALTH ORGANIZATIONS TO CHANGE - WHY DO CHANGE NEED A PROCESS AND PROJECT APPROACH?
Keywords:
change management, change management in healthcare organizations, process management, project management, integrated management sub-disciplines
Abstract
The aim of the article is an attempt to identify the relationship between various disciplines of management sciences (change management, process management, project management) and to refer to the problem of their application in healthcare organizations. This seems to be a serious problem in the context of the inevitability of changes in medical organizations, especially in the face of an ongoing pandemic (organizational changes over a relatively short period of time). In addition, the ever-increasing complexity of healthcare organization and at the same time the pace of technological innovation in medicine. The article is a review  it integrates and interprets the current state of knowledge in the field of change management, process management and project management. It indicates the need to integrate various management sub-disciplines. It was mainly developed using critical literature analysis.
Healthcare organizations, especially during the global COWID-19 pandemic are undergoing a process of rapid organizational change. It is important to understand these changes not only theoretically but as a set of necessary skills. All this to efficiently and effectively implement the paradigm of managing modern health organizations.
Knowledge and experience in change management as well as knowledge of the principles of project and process management seem to be necessary for the proper implementation of effective and efficient management of health care institutions.
It is worth emphasizing that currently the interest in project management and change management is usually focused on ensuring the effectiveness of changes. Therefore it becomes necessary to know the subcategories of management, such as: project management, process management, human potential management, quality management.
References
Bitkowska A., Kolterman K., Wójcik G., Wójcik K., 2016, Zarządzanie procesami w przedsiębiorstwie. Aspekty teoretyczno-praktyczne, Difin, Warszawa.
Daicher D., 2017, The nature of project management, International Journal of Managing Projects in Business, vol. 5, no. 4.
Drucker P.F., 2016, Zarządzanie XXI wiekiem, Muza SA, Warszawa.
Grajewski P., 2016, Organizacja procesowa, PWE, Warszawa.
Grudzewski W.M., Hejduk I.K., 2018, Przedsiębiorstwo przyszłości. Zmiana paradygmatów zarządzania, Master of Business Administration, nr 1.
Hamel G., Breen B., 2018, Zarządzanie jutra, Red Horse Biznes, Warszawa.
Harasim W., 2016, Paradygmaty współczesnego zarządzania organizacją, [w:] Człowiek i organizacja – dylematy współczesnego zarządzania, red. W. Harasim, Wyższa Szkoła Promocji, Warszawa.
Jamali D., 2015, Changing management paradigms: implications for educational institutions, Journal of Management Development, vol. 24, no. 2.
Jřrgensen F., Timenes Laugen B., Boer H.,2017, Human resource management for continuous improvement, "Creativity and Innovation Management", vol. 16, no. 4.
Johannessen J.A., Olsen B., Lumpkin G.T.,2017, Innovation as newness: what is new, how new, and
new to whom?, "European Journal of Innovation Management", vol. 4, no.1, s. 20-31.
Lau C.M., Ngo H.Y.,2014, The HR system, organizational culture, and product innovation, "International Business Review" no.13, s. 685-703.
Lichtarski J., 2014, O relacjach między podejściem funkcjonalnym i procesowym w zarządzaniu, [w:] Podejście procesowe w zarządzaniu, red. M. Romanowska, Wydawnictwo SGH, Warszawa.
Lichtarski J., 2017, Kilka refleksji o konsekwencjach przełomów w zarządzaniu i ich rozpoznawaniu, Przegląd Organizacji, nr 3.
Moczydłowska J.M., 2017, Paradygmaty zarządzania – weryfikacja w dobie kryzysu, [w:] Zrównoważony rozwój przedsiębiorstwa, red. M. Cisek i B. Domańska-Szaruga, Studio Emka, Warszawa.
Nowosielski S., 2017, Od organizacji funkcjonalnej do organizacji procesowej, [w:] Procesy restrukturyzacyjne i konkurencyjność w przemyśle i usługach, red. J. Pyka, TNOiK, Katowice.
Nowosielski S., 2016, Orientacja procesowa w organizacjach – teoria i praktyka, ]w:] Metody badania i modele rozwoju organizacji, red. A. Stabryła, S. Wawak, Mlifes, Kraków.
Osbert-Pociecha G., 2019, Zmiana jako meta proces w organizacji procesowej, Prace Naukowe Uniwersytetu Ekonomicznego we Wrocławiu, nr 52.
Osbert-Pociecha G., 2017, Zdolność do zmian jako siła sprawcza elastyczności organizacji, Wydawnictwo Uniwersytetu Ekonomicznego we Wrocławiu, Wrocław.
Paim R., Caulliraux H.M., Cardoso R., 2018, Process management tasks: a conceptual and practical view, Business Process Management Journal, vol. 14, no. 5.
Penc J., 2016, Przedsiębiorstwo w burzliwym otoczeniu: procesy adaptacji i współpracy, cz. 2, Oficyna Wydawnicza OPO, Bydgoszcz.
Skrzypek E., Hofman M., 2016, Zarządzanie procesami w przedsiębiorstwie. Identyfikowanie, pomiar, usprawnianie, Oficyna a Wolters Kluwer business, Warszawa.
Sońta-Drączkowska E., 2015, Zarządzanie wieloma projektami, PWE, Warszawa.
Trocki M. (red.), 2012, Nowoczesne zarządzanie projektami, PWE, Warszawa.
Van de Ven A.H., Poole M.S., 2015, Explaining development and change in organisations, Academy of Management Review, vol. 20, no. 3.
Woźniak-Sobczak B., 2015, Symbioza paradygmatów zarządzania przedsiębiorstwem w otoczeniu sieciowym, Zeszyty Naukowe Uniwersytetu Ekonomicznego w Katowicach, Zarządzanie 2, nr 222.
Young M., 2019, A meta model of change, Journal of Organizational Change Management, vol. 22, no. 5.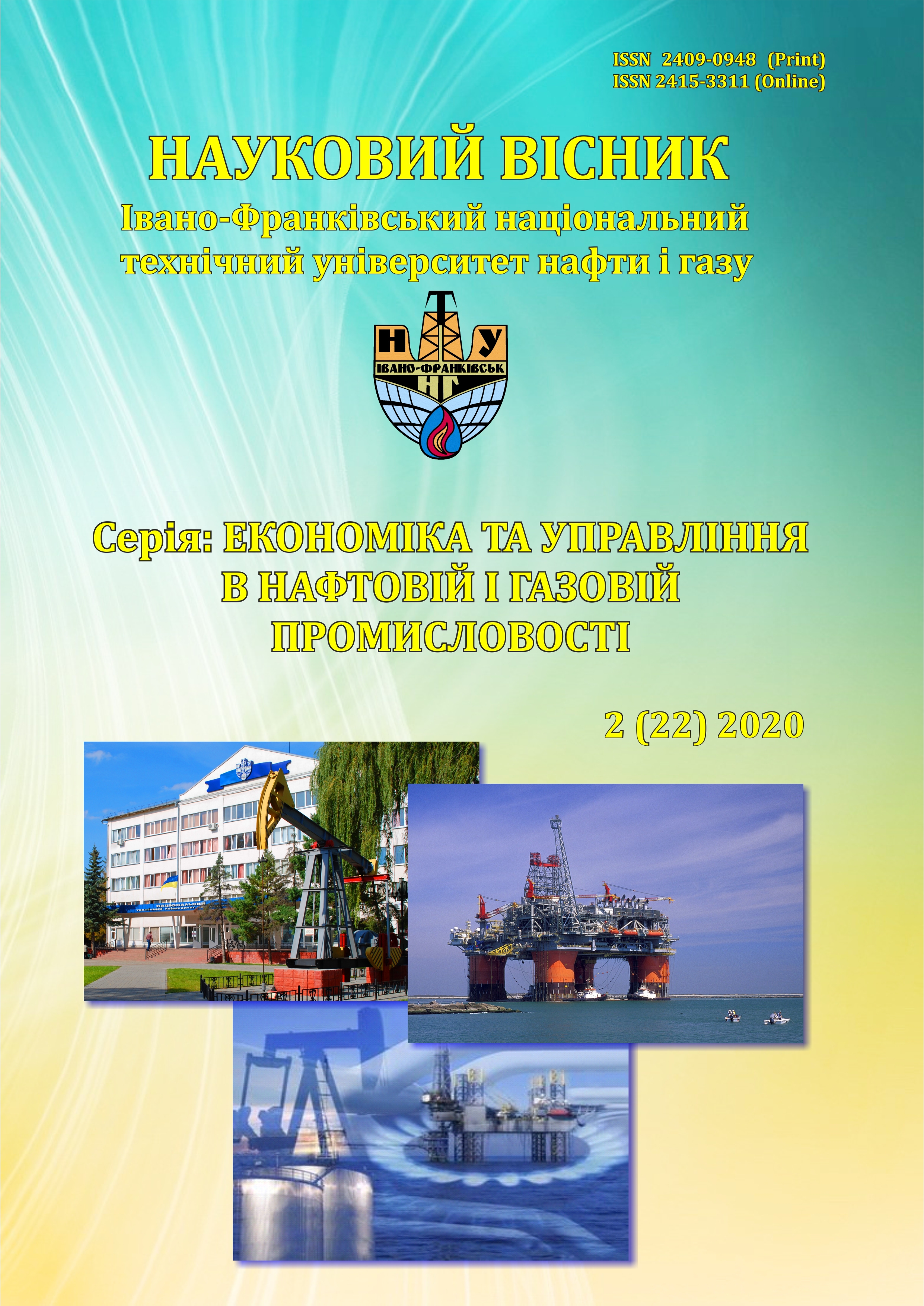 Downloads
How to Cite
Jasinska, J. (2020). THE ABILITY OF HEALTH ORGANIZATIONS TO CHANGE - WHY DO CHANGE NEED A PROCESS AND PROJECT APPROACH?. Scientific Bulletin of Ivano-Frankivsk National Technical University of Oil and Gas (Series: Economics and Management in the Oil and Gas Industry), (2(22), 109–117. https://doi.org/10.31471/2409-0948-2020-2(22)-109-117
Section
ECONOMICS AND MANAGEMENT OF THE OTHER ACTIVITIES
License
Copyright and Licensing Terms
Copyright Statement
The authors who publish in the journal accept the following conditions:
The authors retain the copyright and grant the journal the right of first publication, licensed with Creative CommonsCC BY-NC-SA , which permits other people to remix, transform, and build upon the material and use the material for non-commercial purposes, give appropriate credit and distribute the contributions under the same license as the original.
The authors can conclude additional agreements on the non-exclusive distribution of the journal's published version of the work (for example, publication of the work in electronic repositories) with an acknowledgment of its initial publication in this journal.
The authors can upload the published articles on the Internet (for example, in electronic repositories or on web-sites), as it will stimulate fruitful scholarly discussions and increase the citation rates of the published articles.