About the Authorized Capital of Domestic Business Entities
Keywords:
nominal capital, parent company, limited liability, joint-stock company, commercial and unitary enterprises.
Abstract
The approach to the legislative procedure of the formation of " share capital"was
studied. The features of the shared capital of limited liability companies, joint stock companies,
commercial companies and unitary enterprises were found. The problems of determining the minimum
authorized capital of a limited liability company and the rationale for its formation were highlighted.
The complex analysis of the current legislation, the functions of the papers and scientists were done,
which resulted in the necessity of the creation of authorized capital of a limited liability company and
determined that its minimum size depends on the number of its members and should be the minimum
possible amount divisible.
References
1. Господарський кодекс України № 436-IV від 16.01.2003р. // Відомості Верховної Ради
України. - 2003 р. - № 18 – ст. 144;
2. Цивільний кодекс України № 435-IV від 16.01.2003р. // Офіційний вісник України. - 2003 р.
- № 11 – ст. 7;
3. Про акціонерні товариства: Закон України № 514-VI від 17.09.2008р.// Відомості Верховної
Ради України. – 2008. - №50 – 51. – ст. 384;
4. Про господарські товариства: Закон України № 1576-XII від 19.09.1991р. // Відомості
Верховної Ради України. – 1991. - №49. – ст. 682;
5. Про державну реєстрацію юридичних осіб, фізичних осіб - підприємців та громадських
формувань: Закон України. - 15 травня 2003 року, № 755-IV;
6. Про Національний банк України: Закон України. - 20 травня 1999 року
№ 679-XIV;
7. Бондаренко Н.М., Худак О.О. Особливості формування статутного капіталу товариства з
обмеженою відповідальністю. / Н.М. Бондаренко, О.О. Худак // Вісник Дніпропетровського
національного університету імені Олеся Гончаря. Серія «Економіка»; Вкп. 7(2) 2013. - с 117-122.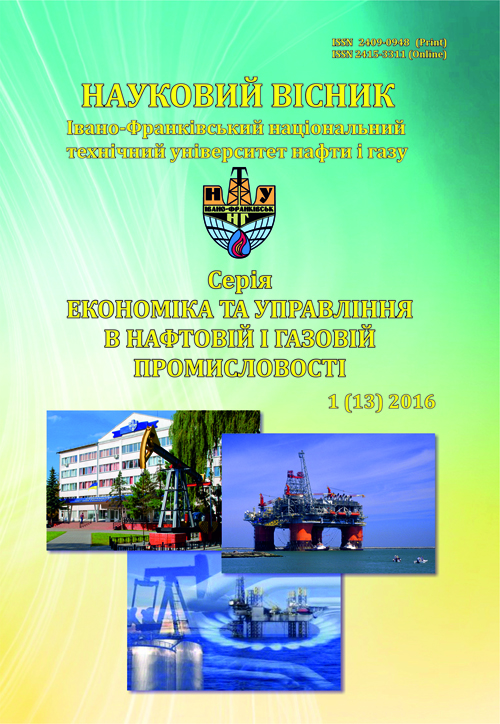 Downloads
How to Cite
Данилюк, М. О., Лозяк, Ю. Д., & Лозяк, О. Д. (2018). About the Authorized Capital of Domestic Business Entities. Scientific Bulletin of Ivano-Frankivsk National Technical University of Oil and Gas (Series: Economics and Management in the Oil and Gas Industry), 1(13), 107–113. Retrieved from https://eung.nung.edu.ua/index.php/ecom/article/view/57
Section
SCIENTIFIC MESSAGES OF YOUNG SCIENTISTS
License
Copyright and Licensing Terms
Copyright Statement
The authors who publish in the journal accept the following conditions:
The authors retain the copyright and grant the journal the right of first publication, licensed with Creative CommonsCC BY-NC-SA , which permits other people to remix, transform, and build upon the material and use the material for non-commercial purposes, give appropriate credit and distribute the contributions under the same license as the original.
The authors can conclude additional agreements on the non-exclusive distribution of the journal's published version of the work (for example, publication of the work in electronic repositories) with an acknowledgment of its initial publication in this journal.
The authors can upload the published articles on the Internet (for example, in electronic repositories or on web-sites), as it will stimulate fruitful scholarly discussions and increase the citation rates of the published articles.