НАУКОВО-ЕКОНОМІЧНИЙ ПОТЕНЦІАЛ УКРАЇНСЬКОЇ НАФТОГАЗОВОЇ АКАДЕМІЇ: РЕЗУЛЬТАТИ РОБОТИ ТА ПЕРСПЕКТИВИ ВИКОРИСТАННЯ
Keywords:
академія, наука, практика, потенціал,
Abstract
Аналізується доробок та оцінюється науковий потенціал Української
нафтогазової академії в сфері економічних досліджень, демонструються
проблеми сучасного процесу взаємодії науки і практики в сфері
References
1. Витвицький Я. С. Методика диференціації рентних платежів у
нафтовидобуванні / Я. С. Витвицький, М. О. Данилюк //Актуальні проблеми
формування рентної політики в сучасних умовах: матеріали Міжнар. наук.-практ. конф. (Київ, 17 травня 2007 р.). – У трьох частинах / РВПС України. – К.:
РВПС України НАН України, 2007. – Ч. 2. – С.56-66.
2. Витвицький Я.С. Економічна оцінка гірничого капіталу нафтогазових
компаній / Я. С. Витвицький // Наукова монографія. – Івано-Франківськ:
ІФНТУНГ, 2007. - 431 с.
3. Фадєєва І. Г., Данилюк М. О. Інтегрована система оперативного оцінювання
витрат бурових підприємств: монографія / ІФНТУНГ – Івано-Франківськ:
Супрун В. П., 2009. – 170 с.
4. Киба Л. М. Управління виробничими запасами підприємств сфери
видобування та транспортування природного газу //Автореферат дисертації на
здобуття наукового ступеня кандидата економічних наук – Івано-Франківськ,
Факел – 2009. – 19 с.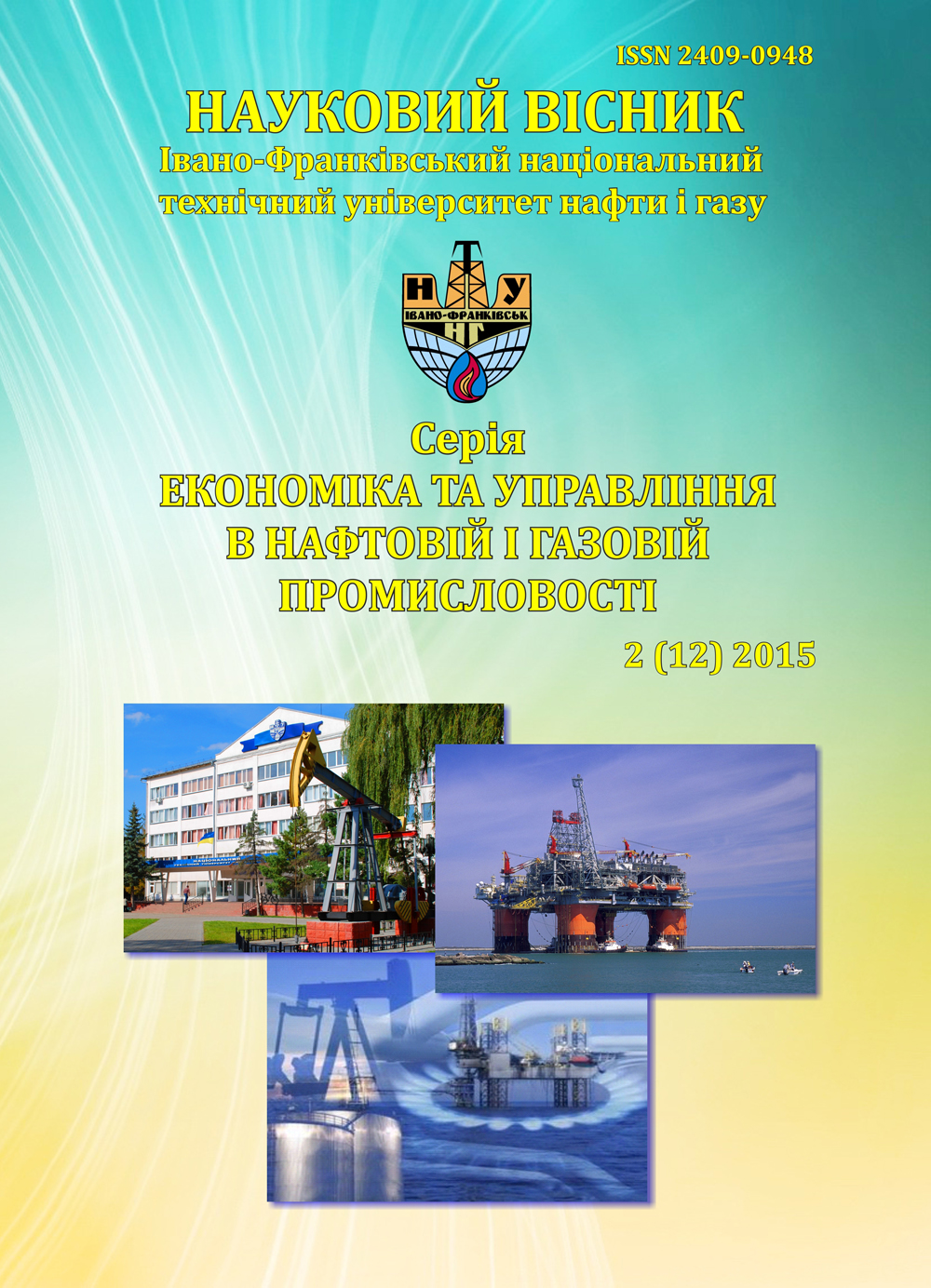 Downloads
How to Cite
Данилюк, М. О., & Киба, Л. М. (2018). НАУКОВО-ЕКОНОМІЧНИЙ ПОТЕНЦІАЛ УКРАЇНСЬКОЇ НАФТОГАЗОВОЇ АКАДЕМІЇ: РЕЗУЛЬТАТИ РОБОТИ ТА ПЕРСПЕКТИВИ ВИКОРИСТАННЯ. Scientific Bulletin of Ivano-Frankivsk National Technical University of Oil and Gas (Series: Economics and Management in the Oil and Gas Industry), 1(1). Retrieved from https://eung.nung.edu.ua/index.php/ecom/article/view/60
Section
ECONOMICS OF OIL AND GAS INDUSTRY
License
Copyright and Licensing Terms
Copyright Statement
The authors who publish in the journal accept the following conditions:
The authors retain the copyright and grant the journal the right of first publication, licensed with Creative CommonsCC BY-NC-SA , which permits other people to remix, transform, and build upon the material and use the material for non-commercial purposes, give appropriate credit and distribute the contributions under the same license as the original.
The authors can conclude additional agreements on the non-exclusive distribution of the journal's published version of the work (for example, publication of the work in electronic repositories) with an acknowledgment of its initial publication in this journal.
The authors can upload the published articles on the Internet (for example, in electronic repositories or on web-sites), as it will stimulate fruitful scholarly discussions and increase the citation rates of the published articles.