ПРОЦЕС ІНТЕЛЕКТОКОРИСТУВАННЯ ЯК ФУНДАМЕНТАЛЬНА ПРОБЛЕМА РАЦІОНАЛІЗАЦІЇ ВИКОРИСТАННЯ ЛЮДСТВОМ ПРИРОДНИХ РЕСУРСІВ ПЛАНЕТИ
References
1. Наукові основи національної стратегії сталого розвитку України / [за наук. ред. акад. НАН
України, д. е. н., проф. М.А. Хвесика]; Державна установа «Інститут економіки
природокористування та сталого розвитку Національної академії наук України». – К.: ДУ ІЕПСР
НАН України, 2013. – 40 с.
2. Тимків І. В. Соціально-економічні імперативи глобального розвитку : автореф. дис. на
здоб. наук. ступ. канд. екон. наук, спец. 08.00.02 – світове господарство і міжнародні економічні
відносини / І. В. Тимків. – К.: КНЕУ ім. В. Гетьмана, 2010. – 25 с.
3. Петренко В. П. Управління процесами інтелектокористування в соціально-економічних
системах : наукова монографія / В. П. Петренко. – Івано-Франківськ: «Нова Зоря», 2006. - 352 c.
4. Петренко В. П. Щодо ідентифікації процесу інтелектокористування в якості
фундаментальної проблеми раціоналізації використання людством природних ресурсів планети /
В. П. Петренко // Матеріали міжнар. наук.-практ. конференції «Економіка та управління в
нафтогазовому комплексі України: актуальні проблеми, реалії та перспективи» (21-23 вересня
2016 р., м. Івано-Франківськ). – Івано-Франківськ: ІФНТУНГ, 2016. – С. 77-78.
5. Гришко Л. «Бурштинова лихоманка» загрожує Україні екологічною катастрофою / Л.
Гришко // [Електронний ресурс]. – Режим доступу : http://econews.bei.org.ua/2016/03/blogpost_
24.html
6. Жуйко В. Невтішні прогнози вирубки Карпатських лісів: повені, посухи та знищення
фауни / В. Жуйко // [Електронний ресурс]. – Режим доступу : http://zik.ua/news/2016/03/03/677740
7. Макогон Ю. Вугільна галузь України: проблеми та перспективи сталого розвитку / Ю.
Макогон // Електронний ресурс]. – Режим доступу : http://old.niss.gov.ua/monitor/desember08/5.htm
8. Кокотюха А. Грибовецьке звалище. Останнє «сміттєве» попередження для всієї країни / А.
Кокотюха // Електронний ресурс]. – Режим доступу :
http://glavred.info/avtorskie_kolonki/gribovicke-zvalische-ostannye-smittyeve-poperedzhennya-dlyavsiyeyi-
krayini-371027.html
9. Мареха І. С. Ресурсозбереження як форма раціоналізації природокористування в умовах
сучасних економічних відносин / І. С. Мареха // Глобальні та національні проблеми економіки. –
2014. – Вип. 2. – С. 905–909 [Електронний ресурс]. – Режим доступу : http://www.globalnational.
in.ua/archive/2-2014/187.pdf
10. Степанюк Н. А. Економічні аспекти екологізації виробництва у контексті формування
господарського механізму оптимального природокористування / Н. А. Степанюк // Науковий
вісник. Національний лісотехнічний університет України. – 2005. – Вип. 15.6. – С. 357-360.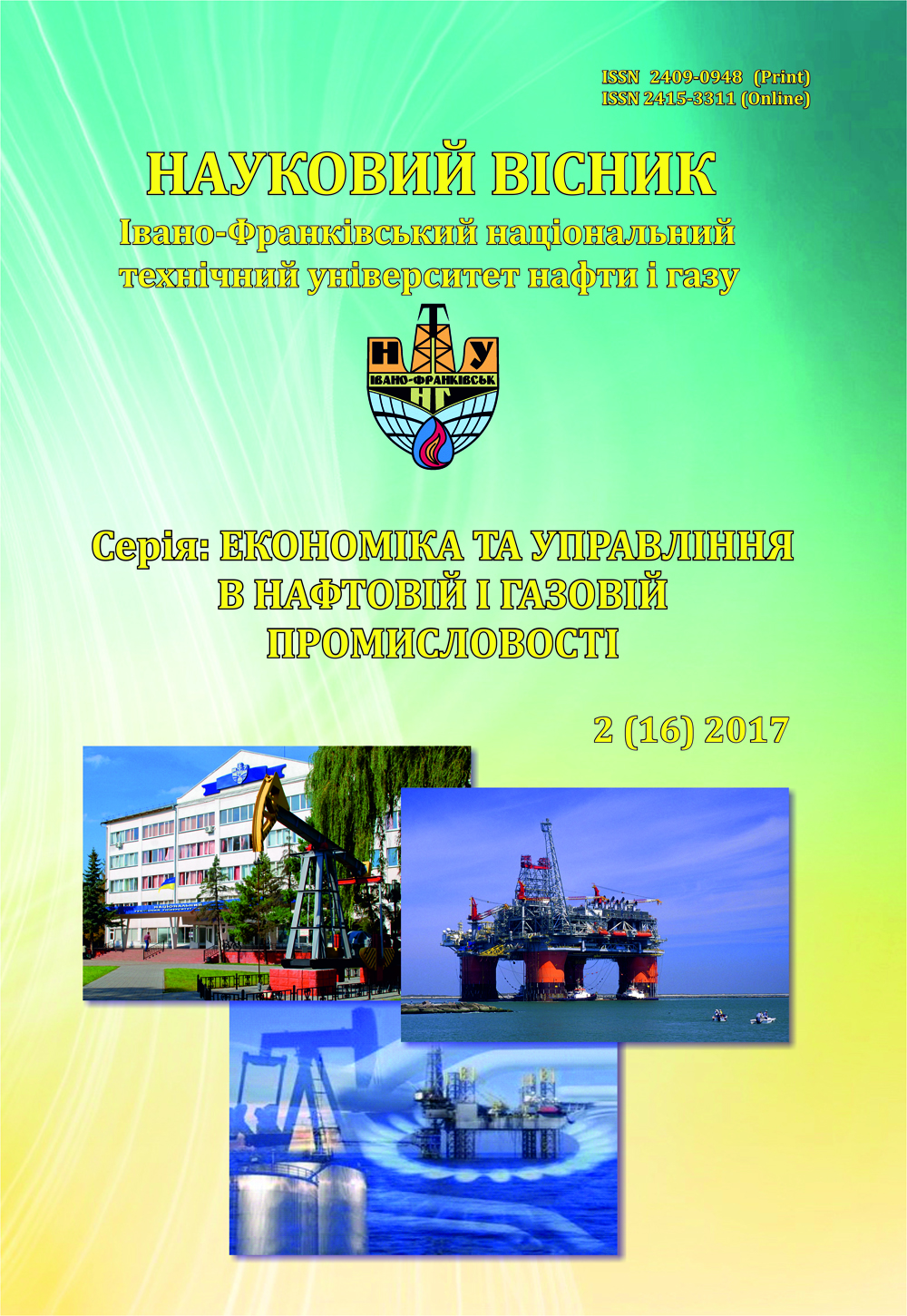 How to Cite
Петренко, В. П., Кісь, С. Я., & Каламбет, Я. І. (2018). ПРОЦЕС ІНТЕЛЕКТОКОРИСТУВАННЯ ЯК ФУНДАМЕНТАЛЬНА ПРОБЛЕМА РАЦІОНАЛІЗАЦІЇ ВИКОРИСТАННЯ ЛЮДСТВОМ ПРИРОДНИХ РЕСУРСІВ ПЛАНЕТИ. Scientific Bulletin of Ivano-Frankivsk National Technical University of Oil and Gas (Series: Economics and Management in the Oil and Gas Industry), 2(16), 7-10. Retrieved from http://eung.nung.edu.ua/index.php/ecom/article/view/12
Copyright and Licensing Terms
Copyright Statement
The authors who publish in the journal accept the following conditions:
The authors retain the copyright and grant the journal the right of first publication, licensed with Creative CommonsCC BY-NC-SA , which permits other people to remix, transform, and build upon the material and use the material for non-commercial purposes, give appropriate credit and distribute the contributions under the same license as the original.
The authors can conclude additional agreements on the non-exclusive distribution of the journal's published version of the work (for example, publication of the work in electronic repositories) with an acknowledgment of its initial publication in this journal.
The authors can upload the published articles on the Internet (for example, in electronic repositories or on web-sites), as it will stimulate fruitful scholarly discussions and increase the citation rates of the published articles.